Nokia TA-1207 Price in India
There is direct relation between economy and the trend in any market segment. It may not have 100% correlation due to multiple reasons but there is certainly a good level one will be there which always gets reflect in pricing. Smartphone players like Nokia are also keeping high focus on price sensitive segment with slowing economy worldwide. Nokia has got FCC certification for Nokia TA-1207 model which based on the quality of features is certainly going to be low price model.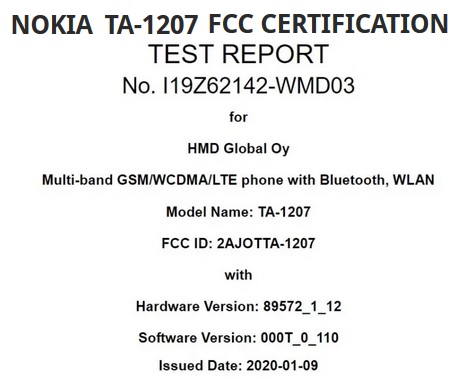 Nokia TA-1207 Features list
Android OS
2920 mAh battery
GSM/WCDMA/LTE
Bluetooth
WLAN TA-1207
HS-34
In India, Nokia has been on downward journey and its models even in value for money segment have been moderately successful only except models like Nokia 206. The upcoming Nokia mobile for 2020, Nokia TA-1207 will soon be launched in US and in India it may take couple of more weeks in the month of January or February. As the model has only 2,920 mAh battery, which is fit only for limited feature phones. The model Nokia model TA-1207 may have support for 4G network (comparable with Nokia XL 4G budget phone) but it would not be high end applications.
Some of the other features of Nokia TA-1207 2020 which got noticed on FCC site are Android OS (no hint of version as yet), 70.46mmx146.56mm which makes it more close to other low price models like Nokia 206, Nokia C1 and to some extent Nokia 1 Plus. These are all expectations only and final picture will emerge when more features of Nokia TA-1207 2020 are unveiled.
In the network and connectivity front, Nokia TA-1207 will feature GSM/WCDMA/LTE phone with Bluetooth, WLAN TA-1207. There are few more models people are expecting to be launched in India in 2020 like Nokia 5.1 Plus. Latest information on Nokia TA-1207 price in India for 2020 for online buying will soon be listed here.