Nokia 5310 Price in India 2020
We had not seen a good quality feature phone coming to Indian market in long time but this wait is over now. In a surprise move Nokia has come out with its one of old feature phone with improved capabilities and it has been received well so far.
The HMD Global has gone to the extent of just keeping it Nokia 5310 and doing away with Xpress Music from the moniker itself. With very strong battery life and high quality, high volume audio, Nokia 5310 2020 is quite good bet among feature phones. Nokia 5310 2020 price is EUR 39 but in India it would be around Rs. 1,199 or even less (compare with Nokia XL 4G model).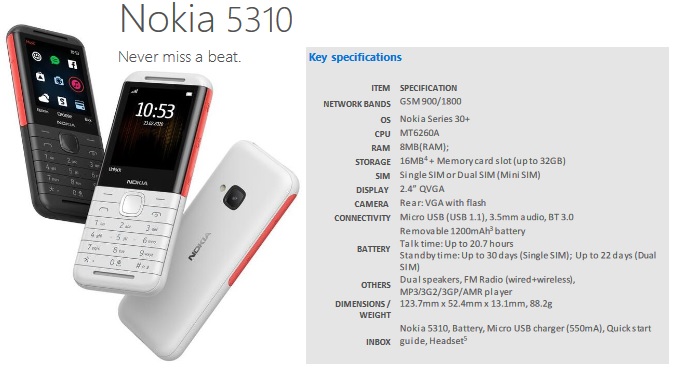 From the look of Nokia 5310 2020 itself one can see the drastic change what this model has come out with. Its clear design, elegant numeric keypad with very clean design with two strong front facing stereo speaker on front side enabling it to give much better audio quality. Nokia 5310 2020 is claimed to give sound which is equivalent to around 105 phones in one go.
Since Nokia 5310 2020 is just a feature phone so like wise is the features list. One more change this model is gone for is change in OS from old KaiOS to Nokia Series 30+. As far as the network is concerned, though this model has dual SIM option, it is meant for 2G and 3G services only. There is no mention of 4G support on Nokia 5310 2020 model (you may also like to read Nokia 114 in India).

The launch of Nokia 5310 2020 in new design is a good to celebrate the once iconic Nokia 5310 phone. More clarity on Nokia 5310 2020 price in India will be in coming days.

Nokia 5310 Features list
2.4 inch QVGA screen
8MB RAM
16MB ROM
Expandable memory: 32GB
VGA camera with flash on back side
1,200 mAh battery
20 hours of talk time
Nokia Series 30+ OS
White/Red and Black/Red color model
Network: GSM 900/1800