Nokia 400 4G Price in India 2020
With lack of authentic and complete information we have to connect dots and bits to make a better conclusion. Same is the case with Nokia 400 4G smartphone which has chances may have appeared in leaks in the past as well as Iron GAFP model.
One can not say for sure whether Nokia 400 4G is a smartphone or a feature phone (compare it with another 4G model i.e. Nokia XL). But one thing looks quite obvious, Nokia 400 4G price will be in the low range and mostly like one can say it a first low end Android model for Nokia in 2020. Few days back we reported on TA-1207 model but before it could be launch, there is leak for this next model i.e. TA-1208.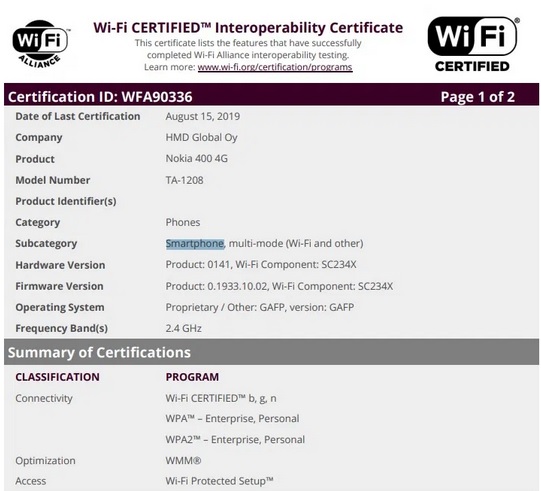 As per the latest Wi-Fi certification listing, Nokia 400 4G is mentioned as an smartphone which will taken more favorably. However in the Iron GAFP leak, it was shown as phone with alpha numeric keypad which is more likely the case for a feature phone in India and other market. In both Wi-Fi certification and Iron GAFP leak, the model name mentioned is TA-1208 and hence we are assuming both are for same model (also read upcoming Nokia forldable smartphone).
Also both the listing and leak suggested presence of Android and Google apps, there is more likely its for Nokia 400 4G only. In the latest leak, Nokia 400 4G has been mentioned with Bluetooth 4.2 and Wi-Fi and name with 4G, which may make it one of very few models with feature phone capabilities for a 4G network services.
Since Nokia 400 4G features alpha numeric keypad, its screen in leaks was relatively smaller and may be true also. May be Nokia is trying out how Android will be received with end users with a low price model. If the certification follows launch, we can expect Nokia 400 4G to be there during the coming up MWC 2020 event. After that we will waiting for Nokia 9.2 PureView model which we reported few days back.
We will report on Nokia 400 4G price in India in 2020 and its other features like RAM, ROM, processor, network support, battery and camera etc. here as soon as there is information. If you like older model than have a look at Nokia 206 in India.