Samsung Galaxy A73 Price in India
It seems the quality of photography is going to remain key focus area for smartphone developers not only in rest of 2021 but also in the year 2022. One attribute which has gained momentum is optical image stablisation (OIS) for which Samsung Galaxy A72 already had support for and now its next model Samsung Galaxy A73 will carry this feature inbuilt. The OIS feature will be there at least in the main and telephoto cameras. Set to be launched in year 2022, Samsung Galaxy A73 price in India is expected to be around Rs. 23,999.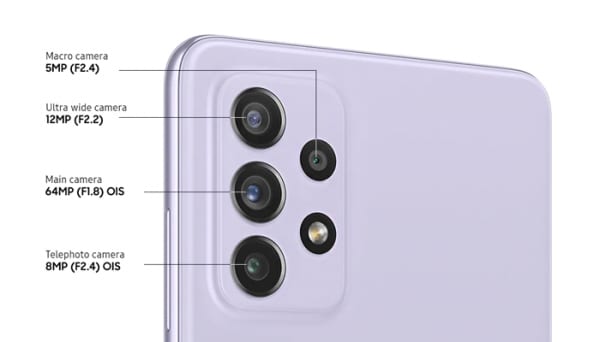 Meant for 5G network which would also be norm during 2022, Samsung Galaxy A73 would be quite apart from its A72 model. One more feature which has been discussed of Samsung Galaxy A73 is 108MP main camera which along with OIS will add new dimensions to quality of photography. Since earlier model has 32MP selfie camera, users can expect better proposition here also.
Though other features details of Samsung Galaxy A73 are not hinted out right now, keeping in mind the timing of launch and features in A72 model, one can easily make a good estimate about them. One may find at least 8GB RAM and 128GB ROM on this new upcoming Samsung Galaxy A series model in 2022.
For final information on Samsung Galaxy A73 price in India, you may check again in coming days.