Teclast M50 Price in India
There are not many brands which are active in the tablet segment in India and which is why we see very limited models coming up in the market. Indian consumers have option to buy from online stores in other countries and than get the tabs shipped to India and same can be done for Teclast M50 which is very impressive model. Well known brand in China Teclast has launched Teclast M50 for 4G consumers with quality features like 12GB RAM (which includes 6GB expandable RAM) and very wide 10.1 inch IPS screen to name a few. Its very affordable 4G tablet as Teclast M50 price in India is only Rs. ,584 if you plan to buy online from AliExpress. The official price of Teclast M50 tablet is $179 only.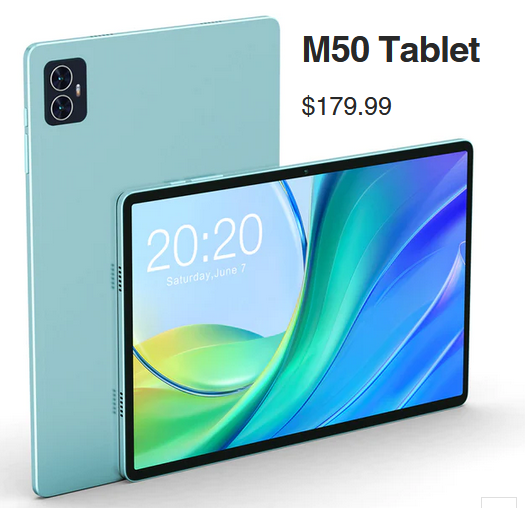 Teclast M50 Features
In today's time even the low price entry level tablet models have very amazing features list and its quite true for Teclast M50 also. The new 2023 tablet Teclast M50 features very high quality 10.1 inch screen having 800×1280 pixe; resolution making it very fit for all shorts of applications. To give good level of performance the new tab model comes with 6GB RAM which can be virtually expanded to 12GB level. On the ROM front it has 256GB capacity and there is no mention of expansion over here.
Teclast M50 Features list
10.1 inch screen
800×1280 pixel resolution
IPS display
Android 13 OS
6GB+6B RAM
256GB ROM
Type C charging
Teclast M50 Specifications
When it comes to ease of usage, Teclast M50 is quite fit for that. The new tablet Teclast M50 specifications includes just 460 grams of weight making it easy to carry and also 8.4mm thickness making it very easy to hold in any position. With 6,000 mAh battery one can safely work on this for quite long hours of time. On the connectivity side, it comes with Bluetooth V5.0, Wi-Fi and also dual nano SIM support.
Teclast M50 Specifications list
Weight: 460 gram
Dimensions: 238.4mm(L) ×157.7mm(W) ×8.4mm(H)
Processor: Unisoc T606 8-Core
GPU: Arm Mali-G57 1Core @650MHz
500W Front camera
1300W Rear camera with flash
Built-in Dual-channel Speaker
3.5mm Headphone
Teclast M50 Review and launch
For users who are looking for entry level tablet with usage of low to medium level than Teclast M50 is certainly meant for you. This is only 4G model and hence there is limitation when it comes when it comes to speed. So this tablet is not for users who are planning to shift to 5G in near future. In India Teclast M50 can be bought from AliExpress online. The Teclast M50 price for Indian consumers will be Rs. 9,584 excluding shipping charges.