HOTWAV R6 Ultra Tablet Price in India
It is quite common to see rugged smartphone for usage in Industrial activities and also in rough outdoor activities but now there is going to be one more interesting product in this category. There is also rugged tablet for similar environment which certainly will have niche demand and we are talking about latest HOTWAV R6 Ultra tablet in the market which can be shipped into India right now by buying online from Amazon. It will not cost much to your pocket also as HOTWAV R6 Ultra tablet price in India will turn out to be around Rs. 17,999 ($289). Having features like 16GB RAM (8GB virtual RAM) and mammoth 15,600 mAh battery makes the price of HOTWAV R6 Ultra model quite reasonable.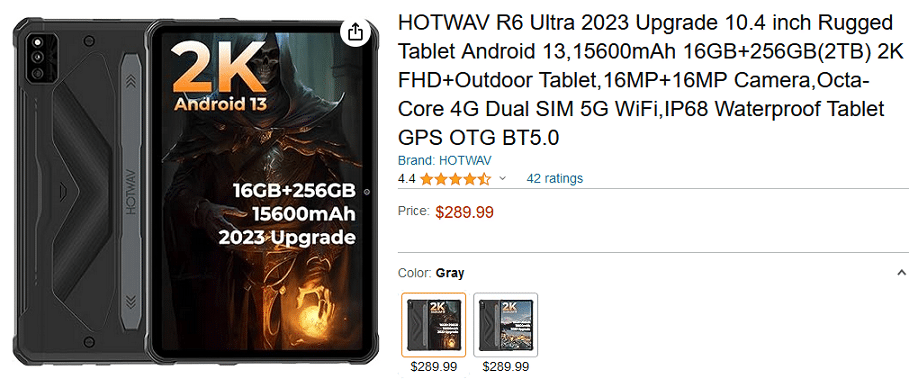 HOTWAV R6 Ultra tab Features
When it comes to performance HOTWAV R6 Ultra tablet has been powered with quite high quality features like we already mentioned 16GB of RAM and 256GB of ROM which one would not find in tabs in similar price range in India. Also with 15,600 mAh battery it will last for 30 hours of video playback and 60 hours in talk time on 4G network which is quite astonishing. Having 19.8W fast charging in HOTWAV tab R6 Ultra will ensure quick recharge in very less time and also reverse recharge with OTG will allow users to recharge other devices from this tab.
Screen size: 10.4 inch
Android 13 OS
Corning Gorilla Glass 3
FHD+ screen
450 nits brightness
1200×2000 pixel resolution
RAM: 16GB (8GB virtual)
ROM: 256GB
15,600 mAh battery
19.8W fast charging
Reverse charging with OTG 5.0
4G network
HOTWAV R6 Ultra tablet Specifications
Being a rugged model HOTWAV R6 Ultra tablet has military standard of MIL-STD-810G and is IP68 and IP69 certified which makes it water repellent and scratch resistant. One can operate this tab in extreme weather conditions ranging from -30 degree Celsius to 70 degree Celsius. Though HOTWAV tab R6 Ultra is just normal for videography with 16MP main camera the model is quite good for selfie as it has 16MP front camera. Though it is a 4G model one can enjoy 5G network speed through Wi-Fi on this model.
Military standards: MIL-STD-810G
Rugged standards: IP68 and IP694
MT6771 octa-core processor
Wi-Fi
Bluetooth
Strong metallic body
GPS
Expandable memory: 2TB
HOTWAV R6 Ultra tablet Review
Such models for designed for very niche category of consumers and its one of the best models for them. Not only it has low price but also amazing features for high level of performance. Also for gaming this device is quite promising as it will deliver very good performance but only to the level of 4G network. It may take some time before this is launched in Indian market. Interested users meanwhile can buy HOTWAV R6 Ultra tablet online from AliExpress and Amazon get it shipped to India at price of $289.