Micromax IN 3B Price in India
Its quite interesting to see the renewed focus of Indian smartphone players will turn out to be in make in India strategy. Though all brands may not be so successful, some of them will certainly bring new life to their market performance. Micromax has revealed its plan for IN series of smartphone low to medium price range category and Micromax IN 3B is going to be next model in that. Its expected Micromax IN 3B price in India will be around Rs. 5,999 (compare with Micromax IN 4C price).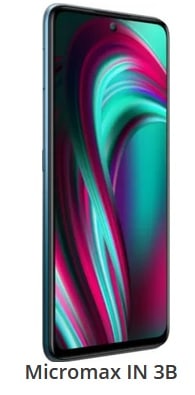 There is very high level of features quality being expected in Micromax IN 3B model though its not certain if this model will be for 5G space as well. Despite being a entry level model, it will carry 6.52 inch screen with 700×1600 pixel resolution. There is very powerful battery of 6,000 mAh capacity which indicates the model will have very long running time. Both these factor shows the model is aimed for gaming and entertainment on the go (you may also like to read comparatively priced model Microma IN 3C).
In the upcoming model Micromax IN 3B there is not much for photography and selfie also. Only 5MP shooter at the front end will not to be much of a favorite to many. Similarly the 13+2+2MP triple rear end camera can not be considered as competitive as one would find in current models in the market.
The presence of 4GB RAM and 64GB ROM again makes Micromax IN 3B more suitable for entry level users and basic applications. Not many users will be familiar with Tiger T610 Octa core 1.8GHz processor and hence one shall double check their usage requirement before buying Micromax IN 3B.
Lot will depend on what final price of Micromax IN 3B in India turns out to be.