Few days back, Micromax has launched its low price mobile Micromax X2814 in India for first time users. Micromax X2814 price in India is only Rs. 1745. It shall come down in coming period and users can expect in the price level of Rs. 1250.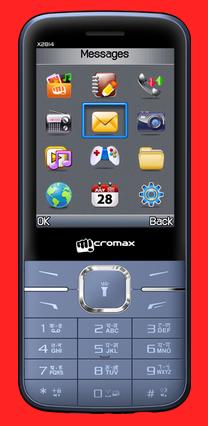 Micromax X2814 Price in India
There is growing demand for low price entry level mobiles in India and that is the reason Micromax is coming up with models for this segment quite often. Now it has launched Micromax X2814 in India at very reasonable price to ensure good affordability. Micromax X2814 price in India for online buying is Rs. 1745 only. Based on the quality of features and specifications provided in Micromax X2814, many users may not find it best value for money phone right now. In coming period, Micromax X2814 price may come down once it is offered with discounts after listing at other online stores.
The feature phone Micromax X2814 is meant to provide good quality entertainment for its target users as it has wider screen of 2.8 inch which also comes with TFT quality and 240×320 pixels resolution. It also supports 262K which will ensure proper display even for content like videos and images. Micromax X2814 is quite average on storage power as it allows storage of 100 messages and 1000 contacts and has internal memory of 494K only. The users who need more space can expand memory up to 8GB which is standard level in entry level mobiles in India.
Micromax X2814 phone is not so good on battery front as it has 1400 mAh battery with talk time support of 5.5 hours and talk time support of 314 hours only. For users who are in need of regular usage for long hours, this phone may not be quite appropriate. Micromax X2814 has overall dimensions of 131*56.15*11.5 mm and hence it is not the top option if portability is your main criteria. The phone is available in black with grey color model and has been designed in bar form.
After reviewing Micromax X2814, its price in India seems little on expensive side. On the camera side also, it has just 0.3MP camera at rear end which can be used only for light images. Micromax X2814 is also provided with games like F1Race, Pack the Man, Bike Adventure, Magic Sushi which can be played in the free time. Users will also be able to enjoy FM radio and audio players if they love music.
Micromax X2814 Features/Specifications list
Screen resolution: 240×320 pixels
Screen colors: 262K
SMS capacity: 100
Phone book capacity: 1000
Expandable memory: 8GB
Camera: 0.3MP
GPRS/EDGE, Bluetooth 3.0
GSM network on 2G
Battery: 1400 mAh with 5.5 hrs talk time