Few days back, Motorola Droid Turbo has been spotted on the benchmark site which gives more information on this devices. This is expected to be launched in this month only.
In our last post, we have revealed the leaked information on Motorola XT1254 model and now there is more news coming on this mode. This time, Verizon has announced the launch of Droid device on coming October 28th and the high probability is, it will be Motorola Droid Turbo only. Also there is more highlight on the quality of features and specifications that can be expected in this devices.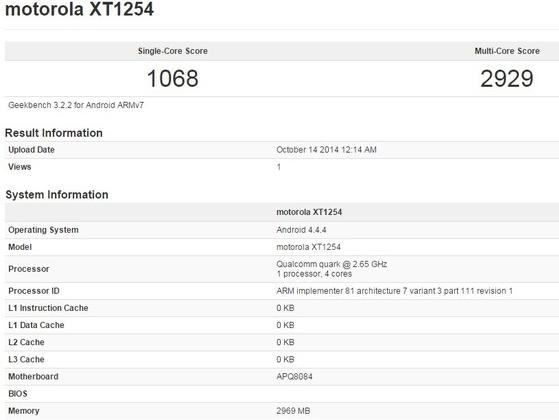 Motorola Droid Turbo is going to simply set new benchmark in many areas and that is also going to be the key to its success. To start with, it will be powered with 3,900 mAh battery which is going to quite big. We have not seen such battery before and definitely any would like to see how it will perform in Motorola Droid Turbo smartphone. Despite being large in size, Motorola Droid Turbo battery is expected to recharge fully in same 3 hours period.
On primary camera front, Motorola Droid Turbo will a bumper offer for its potential users. It will be powered with 21MP camera which is as good as any professional camera. Also it is expected to have all kind of additional qualities like LED flash, continuous shot, HDR etc. which will ensure it is no way behind any other smartphone camera in the market. There is no information as yet on the secondary camera.
Motorola Droid Turbo RAM is going to be 3GB which is becoming new benchmark in new high end smartphone in the market. Also it will have Qualcomm Mark processor of 2.65 GHz which will have 1 processor and 4 cores. The fine combination of Motorola Droid Turbo processor and RAM will make it top end smartphone in productivity even in multi tasking.
The smartphone Motorola Droid Turbo is going to have Android 4.4.4 Kitkat which is also another features users are eagerly waiting to explore. In terms of internal memory, this smartphone will have 32GB of internal memory and there is hardly any need for memory expansion in such conditions.
Motorola Droid Turbo launch in India is not clear as yet.
Motorola Droid Turbo Features/Specifications list
RAM: 3GB
Processor: 2.65 GHz
Internal memory: 32GB
OS: Android 4.4.4 Kitkat
Battery: 3900 mAh