Samsung Galaxy M01s Price in India 2020
In recent times mobile players have started revisiting their 4G models portfolio with the launch of new models in the entry level range. Samsung is also following the same with the work in progress for Samsung Galaxy M01 and now a Geekbench listing suggest the brand may go one step more with model Samsung SM017F which is most likely will be Samsung Galaxy M01s smartphone. Since its Android 9.0 based model and features just 3GB RAM, Samsung Galaxy model M01s price in India can be expected to be Rs. 6,999 only.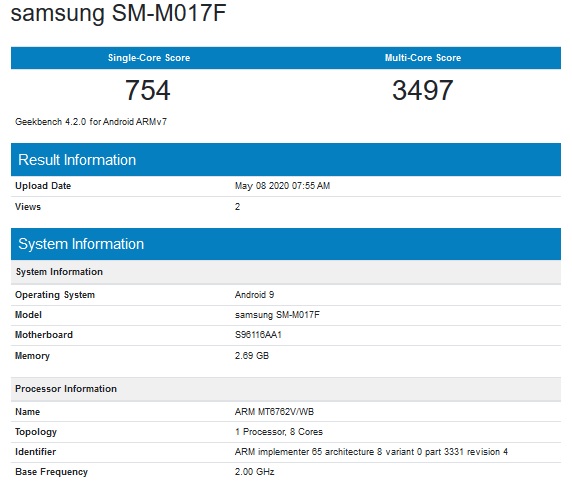 With this listing there are very select information is provided for Samsung Galaxy M01s model and more shall come out in coming days. However a clear hint on what overall picture of this model will look like finally when it comes out (compare with Samsung Galaxy M31).
Frankly the time of 3GB RAM models is way past and is restricted mainly to entry and first time users mainly. Since there is economic slowdown, Samsung Galaxy M01s may find demand for slightly longer period. In such model, the ROM can be expected to be 32GB normally though there is always scope for surprise (also read Samsung Galaxy M model).
Also with Android 9.0 OS, Samsung Galaxy M01s users need to be realistic on what they can enjoy over here especially when it comes to high end games. The information on screen, battery, front end camera and selfie camera of Samsung Galaxy M01s once come out will give better review. But most likely the smartphone would fall in the budget value for money segment.
Soon we will post more information on Samsung Galaxy M01s price in India 2020 for online buying.
Source: Geekbench