Samsung Galaxy M31 Price in India
The first month of 2020 i.e. January has not seen much on frenzy when it comes to new model launches but with the start of February, it will be different scene altogether. One of the main brands i.e. Samsung has couple of models lined up for this period and will include Samsung Galaxy M31 which has received certification from Wi-Fi alliance. Despite being low to mid price model, Samsung Galaxy M31 will have Android 10 OS which is quite appealing. Having latest Android 10 OS also suggest it came under manufacturing very recently but intentionally (sounds) 5G support is kept out of loop (compare with Samsung Galaxy base model M).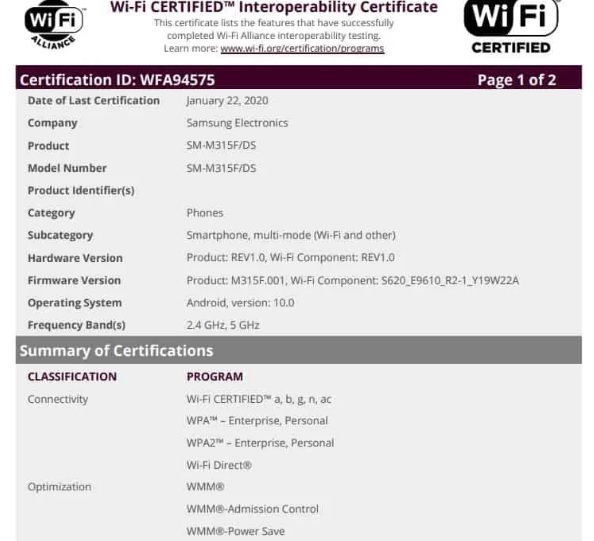 If one goes by the pricing trend of M30 series models, Samsung Galaxy M31 price in India shall be around Rs. 15,000 despite update on couple of features. Already its being rumored to be launched in India and it shall become reality by February or March 2020 latest (you may also like to read Samsung Galaxy smartphone M01s which has similar features).
Since Indian market is not ready for 5G network, Samsung Galaxy M31 with 4G LTE support will not be seen any inferior model by most. There is conflict among rumor on RAM in the current model as some are predicting 2-3GB where as few are indicating 6GB. Hence it will be sensible for Samsung Galaxy M31 enthusiast to wait for more clear information on this (read upcoming model Samsung Galaxy Z Flip 2020).
In some of the leaks in past, it was suggested Samsung Galaxy M31 would have 5 holes in the camera which again needs to be reconfirmed. The smartphone may carry 48MP main camera along with support of micro, wide and sensor cameras. If this turns out to be true, than Samsung Galaxy M31 would be one of the most exciting model in its price range category.
We will be listing information on Samsung Galaxy M31 price in India 2020 as and when its available. We don't expect Samsung Good Lock 2020 app coming to this model.
Samsung Galaxy M31 Features list (expected)
Dual-Band WiFi at 2.4GHz and 5GHz
Android 10 OS
Dual SIM
4G LTE support
Wireless charging
Octa camera at rear end
Samsung own interface
Qualcomm Snapdragon 665 or Samsung Exynos 9611 processor