Samsung Galaxy Tab A 2019 Price in India
As per latest ODC report Samsung is second most popular brand in India in terms of volume of smartphone it has sold. Though its share has slightly come down over the year but still it carries a lion's share of more than 22%.
This has been possible with high quality smartphone and tablet with aggressive pricing which other players like Nokia, Apple could not do. Now after a gap which is not unusual in tablets, we would get to see Samsung Galaxy Tab A 2019 which is SM-P205 model. It has been spotted on the Geekbench and few weeks back reported on firmware also (also read Samsung Galaxy Tab 620).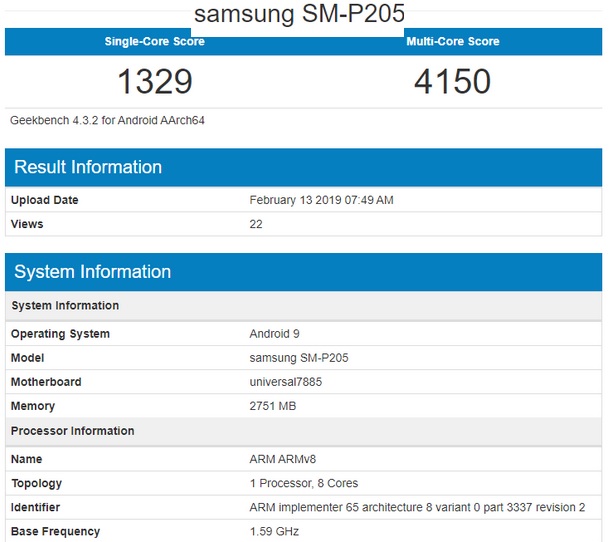 It confirms the arrival of Samsung Galaxy Tab A 2019 in the market and does not reveal much on the features side. However since its a successor model in Samsung Galaxy Tab A series, we can expect some upgrades for sure. It not a big guess if we say its going to be stylish in design and will carry a S pen for finer working. In terms of OS, Android 9.0 Pie will power this upcoming Samsung Galaxy Tab in the year 2019.
Since there is just onset of 5G smartphone and network is not fully in place, Samsung Galaxy Tab A 2019 shall be up to 4G services only. Tablet models are usually not the leader when it comes to new technology features. One more thing people are guessing is Exynos 7885 chipset which is slightly more powerful than its 7870 which will add to better performance.
When it comes to RAM, at least 3GB if not 4GB shall come with Samsung Galaxy Tab A 2019 to make more meaningful and in pace with market condition. The storage capacity could be 32GB or dual model with 32GB and 64GB as per the requirement of the end consumer. Not much can be said about the pricing side but its going to be quite affordable only. Samsung Galaxy Tab A 2018 model is available at less than Rs. 20,000 which is as good as a slightly good quality smartphone price.
We expect Samsung Galaxy Tab A 2019 price in India to be around Rs. 15,000 only. There may be 7 inch and 8 inch model options here also.
Source: Geekbench