Lenovo K11 Power Price in India
In India, there is good demand for value for money smartphone even among 4G consumers and hence this segment becomes most promising for a company to build its market share. Lenovo has seen very limited success in Indian smartphone market which is also a reason it has not been as aggressive as other Chinese players are.
Some of models like Lenovo K11 were anticipated to hit Indian market but never turned out to be so but it may change with next 2020 model Lenovo K11 Power. To be available in India around price range of Rs. 10,500 the smartphone will be coming to Thailand in coming days (also reported on Lenovo M10 FHD REL Tablet).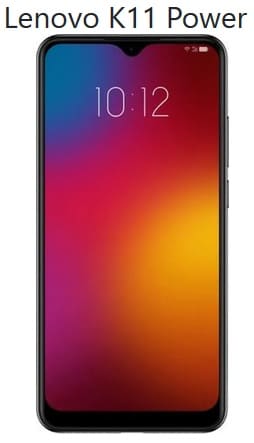 There are few features in Lenovo K11 Power which are quite appealing and can tend people to buy this smartphone. However as always its the growing competition gives erases the edge of a model in market and hence its success. Lenovo K11 Power comes with 6.22 inch of color IPS LCD screen with water drop notch display.
On the camera front, Lenovo K11 Power is quite noticeable and with 48MP main camera set on back side, not many models in the market can match it. On the front end, it has 16MP selfie shooter which is also a feature to count on. The screen and camera features of Lenovo K11 Power makes it some sense better than one can get in the Indian market (also check out Lenovo Xiaoxin Air 14 2020).
Now coming to disadvantages of of Lenovo K11 Power which include 4GB RAM and 32GB. Such combination now a days available in smartphone of price range around Rs. 6,000 in India. In the overall review of Lenovo K11 Power, one would find it most suitable for users who want to enjoy photography, video calling and entertainment.
The information on best Lenovo K11 Power price in India will be soon here.
Lenovo K11 Power Features list
6.22 inch screen
Water drop notch display
Android 9.0 OS
4,000 mAh battery
4GB RAM
32GB ROM
Mediatek P65 processor
4G, VoLTE support
48MP Quad set main camera
16MP selfie shooter