Lenovo M10 FHD REL Price in India
If you are having a interesting gadget at home, certainly one can not avoid kids using it and some time they need for productive purpose also. But certainly there is difference in the content what a adult can see and what a child need to see. Keeping this in mind, new tablet Lenovo M10 FHD REL has provided kids mode where in parents can control what is allowed for kids to see. Available at price of Rs. 13,990 in India, Lenovo M10 FHD REL is new pick but one has to access internet through Wi-Fi only.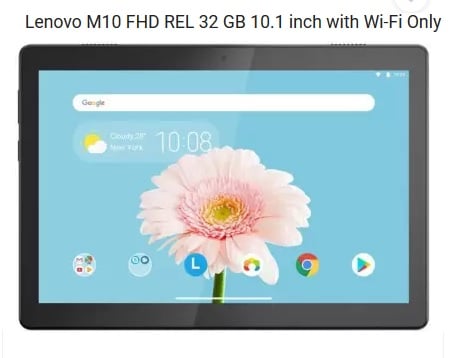 Since Wi-Fi calling in India is allowed by telecom players on smartphone, Lenovo M10 FHD REL users have to go for apps only. The gadget does not have SIM card option and hence using fast network services like 4G is out of question. If you are comfortable with this, Lenovo M10 FHD REL being a low price model is worth looking further.
Despite being average on features, the new tablet Lenovo M10 FHD REL has done some exercise to keep it fit for entertainment as it has two front speakers. Also there is 8MP main and 5MP selfie camera, good quality images and videos for updating on social account will be possible on this tab.
On the OS front, Lenovo M10 FHD REL has old Android 9.0 Pie only and hence if you wish to play games with peak performance than give a thought to it. We have not seen many of tablets models being launched in India in recent times and Lenovo M10 FHD REL will certainly be good choice if you are so keep for having a tab.
Already Flipkart is indicating price of Lenovo M10 FHD REL at Rs. 13,990 is at 40% discount, in coming time one can expect more discount also. If you buy with Axis bank credit, you would get additional 5% discount on current price of this tablet. Lenovo has Yoga series of tablets in India already.
Lenovo M10 FHD REL Features list
10.1 inch screen
Screen resolution: 1200 x 1920 Pixels
Full HD screen quality
Kids mode
Facial recognition for security
Android 9.0 OS
3GB RAM
32GB ROM
8MP rear camera
5MP front camera
Dual speaker on front end
Wi-Fi connectivity only
Qualcomm Snapdragon 450 Octa Core (1.8 GHz)
7000 mAh Lithium Polymer battery
G Sensor, Vibrator sensor