Realme C3s Price in India
There were very select devices which has Android 10 OS and it was mainly for high end models. One may attribute this to onset of 5G network or increasing competition, soon we will have latest OS even in entry price models and Realme C3s is one of them. Recently Realme C3s has been listed on FCC and hence US will be one more market apart from Thailand where this model will make entry. Going by the price of Realme C3 model which is predecessor, in India we expect Realme C3s to be around price range of Rs. 8,500 only.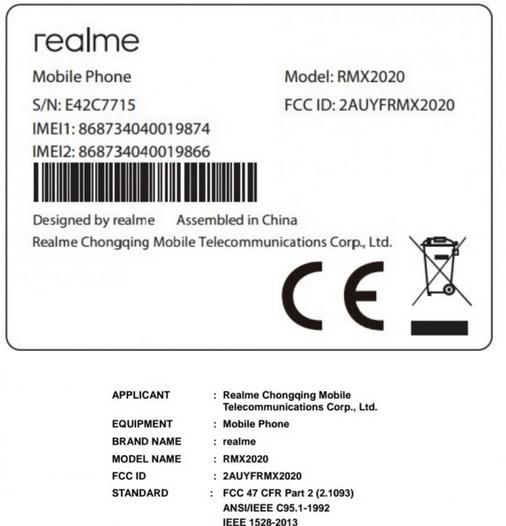 Not many details are available from FCC listing of Realme C3s except what one can read out from information sheet and schematic image. Basically Realme C3s is a RMX2020 model where one can link 2020 to year of launch also, a bit of coincidence (also read Realme 10000mAh power bank Classic Blue version).
Based on the image of rear end of Realme C3s, it appears the upcoming 2020 Realme model will carry tripple set of camera. It would be interesting to see if it will macro camera like we reported on Samsung Galaxy A21s today.
Since smartphone Realme C3s is coming to US where 5G network is much in use and it also has OS 10, we expect this model to be supporting 5G services. With latest OS, we expect remaining features of Realme C3s also to come in good shape like water drop notch display, better processor (can we expect Snapdragon 865) and at least 4GB RAM.
Any ROM less than 32GB would not be appreciated in such a model but lets wait for more information on Realme C3s. Another aspect is battery which has to be quite good to make a smartphone really fit for 5G network. Realme smartphone C3s comes with finger scanner on the back side and lets see if it has face recognition also.
We will post information on Realme C3s price in India when its available from reliable sources. Another smartphone Realme 6i is also coming up as a quite promising model.
Realme C3s Features list (including expected)
Android 10 OS
Finger scanner
Triple camera at back end
Powerful battery
4GB RAM
32BM ROM
Water drop notch