Realme 10000mAh power bank Classic Blue Price in India
Power bank is now a days almost as necessity as the smartphone itself for high end users both in personal and professional category. It is common in India now a days to see even students in colleges using power bank and hence its obvious we see models with better and better features goes on sale in India now. Realme 10000mAh power bank Classic Blue version which was the latest version announced few months back will finally go on sale from January 26th, 2020 (also read Realme 6i smartphone for 2020).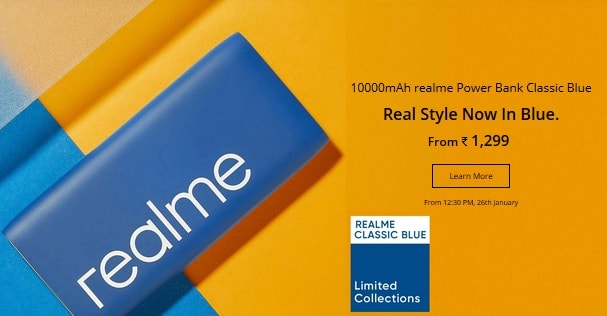 For online buying, Realme 10000mAh power bank model classic blue will be available on Flipkart, Amazon and Realme.com which is official site at price of Rs. 1,299. If your opting for online retailers, than you can avail some more offers like discount with certain cards and free gifts. Also there is 10 days replacement and one year warranty on this model.
The new Realme 10000mAh power bank classic blue model comes with 2 way fast charging with 18W which reduces the recharge very considerably. Also there are two outputs and hence you can plug in your smartphone and one more similar device for recharging on this gadget. It has 12 layers of security which will ensure the quality of the product have very good life and its quite safe to use too.
Realme 10000mAh power bank is quite good in design and other related aspects as it weighs just 230 grams. With blue color on front and back, yellow finish on top and bottom, its quite different in look from other 3 color models which came in to Indian market much earlier. You can buy Realme model 10000mAh power bank in classic blue color at price of Rs. 1,299 but on Amazon there are good offers also which will reduce its effective price.
Realme 10000mAh power bank classic blue version features
10,000 mAh battery
12 layer security
18W two way fast charging
2 output i.e. Type C and A
Blue color
Recharge time: 3.26 hrs with 18W
12.5mm thick
Weight: 230 grams