Ulefone Armor X7 Price in India 2020
Now a days a smartphone has to be convenient in multi level activities to make sure it has much wider usability and hence wider appeal.
The new model Ulefone Armor X7 is not only just a rugged phone but also comes with triple navigation tool kit using GPS, Glonass and Galileo which will help users in unknown locations to move easily as at least one would be working. In the price of $69.99 Ulefone Armor X7 after discount is one of the few models with IP68/IP69K protection grade (compare with Ulefone Armor X6).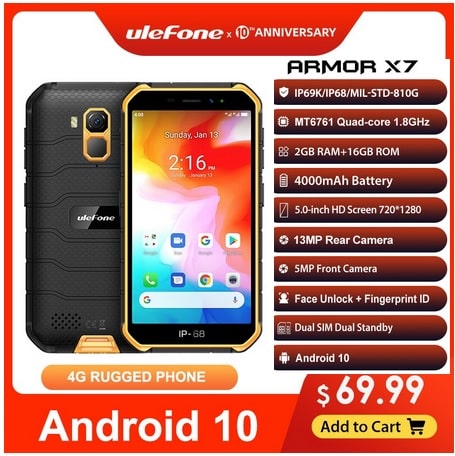 The new rugged Ulefone Armor X7 smartphone carries 360% protection and can with stand fall of 1.2 meters. Also in water of 1.5 meters depth, it can hold on for 30 mins but it can with stand 1 meter depth of concrete for 24 hours and hence people working in drilling, construction and water navigation will find it quite helpful (in fact niche for them).
Ulefone Armor X7 stands not so great in comparison with respect to routine features of a normal smartphone also as it has 5 inch (diagonal) LCD screen with multi touch display. When it comes to camera, it has just 13MP rear end camera with 5 piece lense and dual LED flash which makes it more suitable for photography in extrement dark or inside water conditions. The front camera is of 5MP with 4 lens and certainly not meant for selfie enthusiast.
On the hardware part Ulefone Armor X7 comes with just 2GB RAM and 16GB ROM which simply does not justify its price even in this promotional period. The 4,000 mAh battery also has talk time of up to 13 hours and 5W charging which makes it more of a entry level ruged phone.
For better security and privacy for files and other data inside, Ulefone Armor X7 comes with Android 10 and finger print scanner. Expected to be launched in April 2020 in Indian market and Ulefone Armor X7 price in India will be around Rs. 5,999 only.
Ulefone Armor X7 Features list
5 inch screen (diagonal)
1280×720 pixel HD+ resolution
4,000 mAh battery with 13 hrs talk time
5W charging
2GB RAM
16GB ROM
Android 10 OS
Finger print scanner
360 degree protection
triple navigation: GPS, Glonass and Galileo
13MP rear end, 5MP front camera
Face unlock
Black, Orange colors
IP68/IP69K rated for ruggedness
Gloves mode: 1.5mm cotton golves