Ulefone Power 3 Price in India
After few weeks, it will be more tough to decide between a smartphone and a tablet as phablet are getting in the middle with amazing prospect. Its not just the name in the model which is Power, the new smartphone Ulefone Power 3 in India truly stands for it.
There are not many models from Ulefone but its limited offering have been quite impressive though. Ulefone Power 3 price in India is going to be around Rs. 15,000 though most of the other models from the company have been in much lower price category.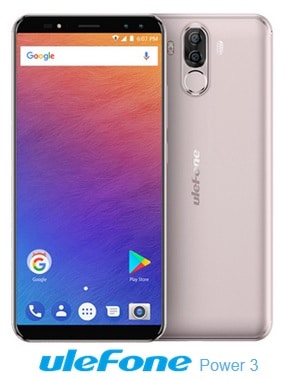 The features of Ulefone Power 3 are simply which this smartphone amazing. With 6 inch FHD screen, there is nothing better one can expect when it comes to display quality. With 402 ppi, the clarity of picture even in FHD quality will be finest up to the last distinction. Ulefone Power 3 would certainly look surprisingly when it comes to processing power as its RAM is noth 3 or 4 GB but straight 6GB (compare with Ulefone MIX mobile).
There are few disappointment also in Ulefone Power 3 and it starts with weight which 210 gram. This will make it little heavier which may be slight off the mark for high end individuals. Also the 9.85mm thickness is quite bit more than what the current trend is there in the market.
Apart from these 2 drawbacks, Ulefone model Power 3 has amazing features list. Certainly its worth Ulefone Power 3 price in India will attract good demand as well.
Ulefone Power 3 Specifications list in India
6 inch screen with 402 ppi, FHD
LED flash, AF on 16MP+5MP dual camera at rear end
13MP+5MP dual camera at rear end
Black, Gold color
Touch ID+ Face ID
Android 8.1 Oreo
64GB ROM
6,080 battery
Bluetooth v4.1