Alcatel 5 price in India
Though the year 2017 has ended but the arrival of new smartphone have not and the trend is well going with the onset of 2018. Its the time when most of the brands have lined up their quite promising models and Alcatel 5 going to be the one more in the pipeline.
Though there has been speculations for quite some time about Alcatel 4S but that did not see the light of the day. There are some sources which suggest Alcatel 5 price in India once its launched in 2018 will be around Rs. 19,000 but all these are mere speculations. The model may also be termed as Alcatel Idol 5 in Indian market.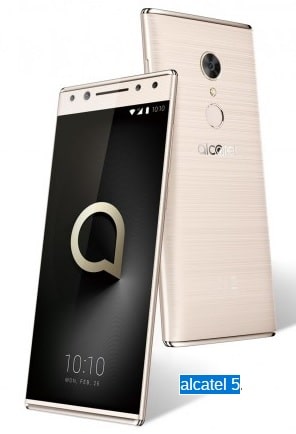 If we go by the reliable sources report than only one image of Alcatel 5 on Twitter have been leaked and details on the features quality will come out may be in next week. Based on the that leaked images, we would get a impressive design in this upcoming model of Alcatel in 2018.
Another features quality of Alcatel 5 is the model will have dual camera at the front end for selfie. This is going to be one more model which has better focus on front camera over rear camera. There is only single camera in Alcatel 5 at rear end though it may compensate with better quality pixels. There is also dual LED flash with the rear shooter which is not visible for other one.
Also Alcatel 5 image reveals a finger print scanner at the rear end which has become quite common and some of the model even boast having scanner for individual apps. The model has gold color on the black side and quite similar but slightly different on the front end.
Its not a bezel less model but on the sides and lower front the bezel has been completely taken care off. With 18:9 aspect ratio on screen, one would get quite lot of screen space for working.
We would report Alcatel 5 smartphone price in India as and when available.
Alcatel 5 Features list in India (expected)
18:9 aspect ratio
near bezel less screen
Gold color on back side
Dual camera for selfie
Single camera with dual LED flash on rear end
Finger print scanner
Expected launch date of Alcatel 5: January 2018