State owned telecom player BSNL has given mixed news for its Tamil Nadu customers on the eve of Republic day i.2. 26th 2020. The mixed new came in the prepaid plans BSNL Marutham and PV 1999 in their validity period.
This not the first time BSNL prepaid plan Marutham has seen changed in its validity period. But this time the plan has shifted towards other regular plans and hence will be less seen as a promotional plan now in 2020.
There has been two changes in BSNL prepaid plan Marutham on January 26th, 2020 i.e. one the plan will remain available till March 31, 2020 which is extension of more than two months. In the first phase, this plan was to last up to October 23, 2019 but was later extended up to January 21, 2020. Now it has got one more extension i.e. remaining open up to March 31,2020.
Tamil Nadu BSNL Pre paid plans latest list as on January 26th 2020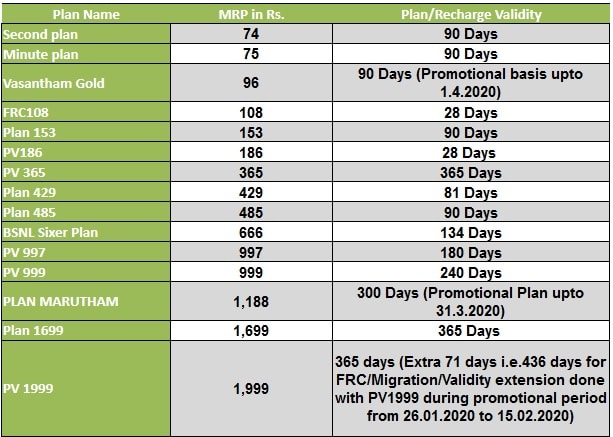 However this time, BSNL Tamil Nadu prepaid plan Marutham users will get this plan for 300 days only and hence there is reduction of 65 days. This is one reduction which will reduce the appeal of the plan as promotional offer as compared to past. However this is only one of the few plans which offers 5GB high speed internet daily which will continue to appeal to consumers.
Another prepaid plan which has been modified by BSNL Tamil Nadu is PV 1999 for which now the validity has been extended from 365 days to 436 days which is 71 extra days with same price tag. However this is for a promotional period starting from January 26th to February 15, 2020. New BSNL prepaid plan PV 1999 now can be considered promotional plan announced on the eve of Republic day 26th, 2020.
Source: BSNL Tamil Nadu official site