InFocus Vibe 3 Price in India
Even in the feature phone segment there is need for larger screen though it may come at a slightly higher cost. InFocus Vibe 3 is meant to serve that demand for 2G users in India with 2.4 inch screen though the quality remains the same.
Hence the InFocus Vibe 3 price in India is also expected to be Rs. 999 (slightly higher than InFocus Star mobile price). There are few more features like multi language support and 32GB expandable memory that comes with this model.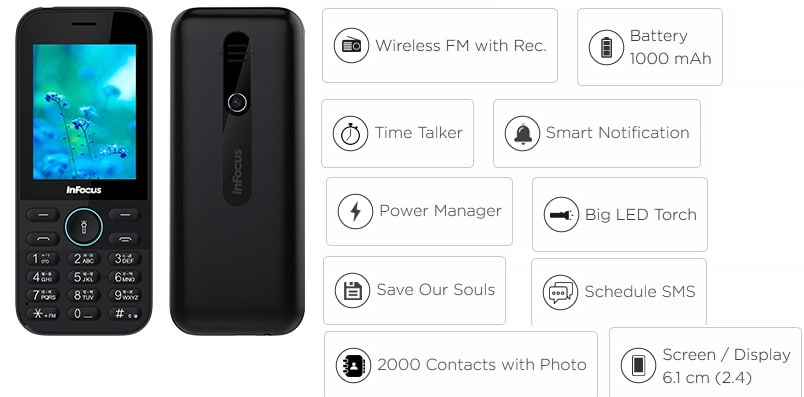 Also the feature phone InFocus Vibe 3 comes with privacy lock which is not to be seen commonly in this segment. For navigation in night time, it has slightly bigger torch than what we normally see. The design is more friendly in InFocus Vibe 3 especially when it comes to playing audio files with dedicated buttons (compare with InFocus M810).
In the given memory of InFocus Vibe phone 3 one can store up to 2000 messages and contacts. Also the mobile has expandable memory of 32GB which can use to play songs etc. To further user experience for entertainment it has FM radio with recording option. There is also option to schedule SMSs in this model which though may not be used so frequently.
For ensuring longer battery life, InFocus mobile Vibe 3 has power manager along with strong 1,000 mAh battery. This is quite needed if you listen to songs for long duration. Overall review justifies InFocus Vibe 3 price in India in less than Rs. 1,000 level.
InFocus Vibe 3 Features list
2.4 inch screen
Auto call recorder
2000 contacts/messages
Time talker
32GB expandable memory
Bluetooth
1,000 mAh strong battery
Power manager
FM radio with recording
Auto call recording
Schedule SMSs
Smart notifications
Save our souls