Oppo Find X2 Lite Price in India 2020
Some of the models in the market are so close to the old one that sometime they look more a rebranded smartphone then a new one.
Interestingly sometime the similarity in features goes across the brands also and hence tough to make out which is leading whom. There is leaks on Oppo Find X2 Lite smartphone which people already started talking out as likely rebranded model Oppo Reno 3 Validity Edition. Since its Lite version, Oppo Find X2 Lite price in India could be just below X2 model i.e. around Rs. 49,999 (compare with Oppo Find X2 Pro).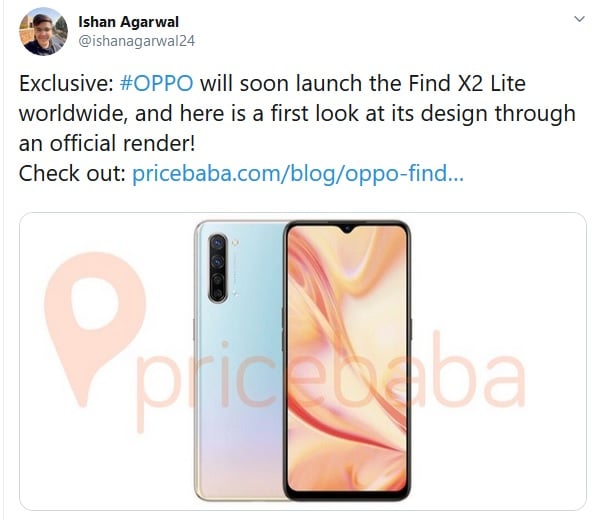 Few days back only Oppo Find X2 was launched in Indian market as a premium model but given the economic slowdown which will last for a longer time, its sensible to make smartphone more and more affordable and hence scope for model like Oppo Find X2 Lite relatively increasing.

Only front and back images of Oppo Find X2 Lite have been leaked on Twitter by Ishaan Aggarwal but some more people have come out with expected features list. The smartphone comes with water drop notch and thick bezel on the bottom which looks little too much for a smartphone of this price range.

On the back side, the quad set cameras are placed along with single LED flash in vertical shape on left side. There is Ultra steady text written along side camera rectangle which may mean high level of stablisation in the images and videos taken with this smartphone. This probably could also mean Oppo Find X2 Lite would carry a better sensor than we have seen in its other models in the past.

The finger print scanner seems on the side of the Oppo Find X2 Lite smartphone. More details of features and specifications like screen size, RAM, processor, battery, camera pixels on front and back side etc. shall come out in coming days.

Soon we will further update information on Oppo Find X2 Lite price in India 2020 along with other details.