OPPO Find X2 Pro Price in India 2020
There have been quite good number of occasions when Chinese smartphone brands have been able to be at the fore front when it comes to new trend. Among them noticeable is Oppo especially with Find series which has been first in such pattern and seems the history will repeat with upcoming model OPPO Find X2 Pro also.
Spotted on NBTC listing of Thailand (see image below), the 2020 smartphone OPPO Find X2 Pro will be first to have super fast charging with W65 which is called Super VOOC fast charing. Being a model in the high price range category, OPPO Find X2 Pro users shall also be ready to pay out good but its worth (also read Oppo model PCML50 5G).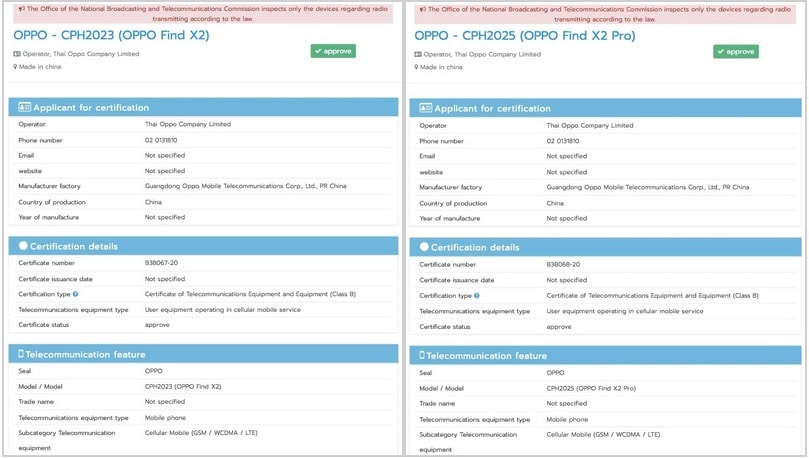 In the listing another model OPPO Find X2 is also mentioned with few extra features details which are quite impressive. Since OPPO Find X2 Pro shall be a better version one can expect at least and at some levels better than X2 model. As far as launch of OPPO model Find X2 Pro is concerned, there is no information as yet for Indian market but logically such models come faster once they are launched in one country. If OPPO Find X2 Pro comes late than there are chances its shine of having cutting edge features may get tarnished if there is new update which this model would not have.

Mentioned as model no. CPH2025, the upcoming model OPPO Find X2 Pro will have Snapdragon 865 processor. The Find series models were first in the market to come out with slider and bezel less screen, lets see if there is out of box new feature this time also in display. Some have predicted OPPO Find X2 Pro to carry have WQHD display and 120Hz screen which is also shared by Twitter user Ice Universe in his leak on OPPO Find X2 Pro smartphone.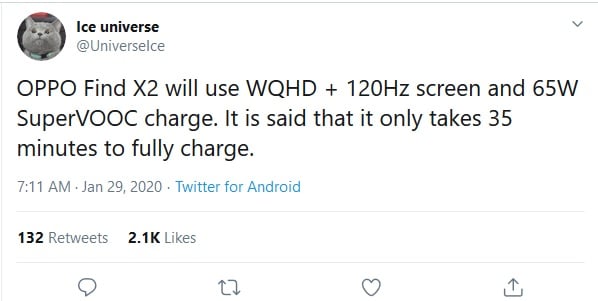 What the new smartphone OPPO Find X2 Pro holds in batter, camera, RAM, screen size, we have to wait for more leaks to get. Recently we have seen X2 model from POCO and there are many more with X2 model name but OPPO Find X2 Pro is going to be class different hopefully.

We will provide latest information on OPPO Find X2 Pro price in India and its features and specifications here. Meanwhile you may like to read on Oppo smartwatch in India for the current year 2020.