ZTE A2020 Pro Price in India
Not many of us were so fan of Chinese companies in the smartphone segment when they were just coming up. However over the period of time, their futuristic features have led to increasing curiosity about their upcoming models and now its almost must to pay a glance to them.
Even in the budget price models, we are getting some of high end features quite ahead of our local brand can pull out. Take the case of ZTE A2020 Pro smartphone which is not going to be a costly proposition yet carries latest OS.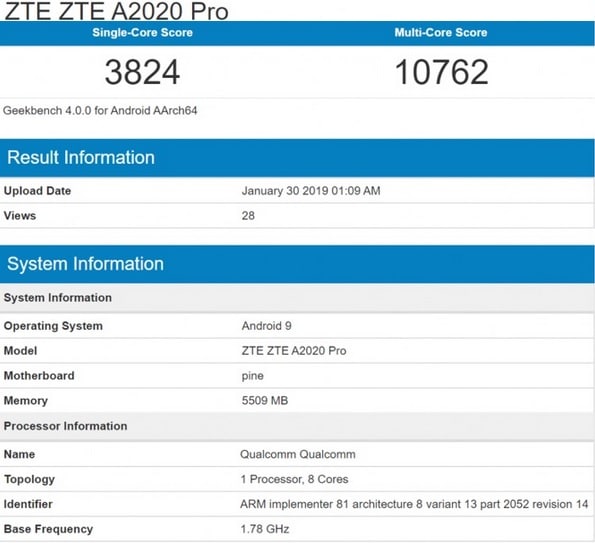 Spotted on Geekbench few days back, ZTE A2020 Pro could turn out to be ZTE Axon 10 Pro 5G enabled smartphone which many others believe also. The company has lined up models in Blade series also for launch in current period and few of them are ZTE Blade V10 and its sister model ZTE Blade V10 Vita. Both these models are meant for 4G services only. This is not unusual also as it takes some time before we would see budget price smartphone in the 5G network services area also.
There is very basic information available so far on Geekbench about ZTE A2020 Pro model which mainly pertains to RAM, processor and OS. As per the available leaked image, this model will carry 6GB RAM which is quite fantastic for a low price model. The Android 9.0 Pie OS which do a great deal of favor in meeting the performance expectations and also keeping it ahead of other similar price models.
Qualcomm Snapdragon 855 processor with 8 core and 1.78GHz base frequency in ZTE A2020 Pro is another aspect which will give good level boost to the performance. The screen is expected to carry water drop notch with just selfie camera being only item located on front side. Not only its good smartphone in applications, in terms of look wise also its going to be quite appealing.
We will give latest information on ZTE A2020 Pro price in India in 2019 when it hits local stores.