ZTE Blade V 2020 Price in India 2020
If the indication of 4G smartphone has any indication than the user base for 4G is going to remain for long time and at current times its much more than 5G which is quite logical also.
Few days back ZTE had unveiled its 5G model but now it come back to launch its 4G model i.e. ZTE Blade V 2020 which is for lower mid price range. Very high on features quality and expected to be launched in May 2020, ZTE Blade V 2020 price in India can be expected to be around Rs. 19,999 only.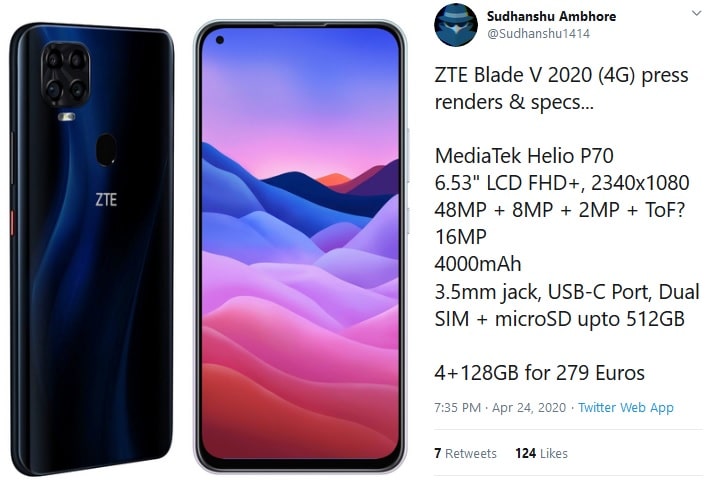 The press render of ZTE Blade V 2020 shows the smartphone is quite different from earlier models in Blade V series in many aspects. To start with, the model has a very small punch hole display giving much better look and also curved screen of 6.53 inch size. The dark blue and white color models have gradient color appearance which shows its trendiness also.
Next important feature of ZTE Blade V 2020 is its rear end camera set up which seems to have to taken inspiration for premium smartphone currently available in the market. It has quad camera set up with square box on top left corner and 48MP+8MP+2MP+ToF combination is something one would find match in the similar price category. Having 16MP front camera on the front side is also quite appealing (compare with ZTE Blave V10 Vita).
Now starts the features of ZTE Blade V 2020 which are slightly old fashioned. It has finger scanner on back side and no information on face unlock feature. The RAM is just 4GB and processor is Helio P70 which is quite typical of a 4G mid price model. Having Android 10 is no big deal as that is a given aspect in any modest smartphone.
Soon we will update information on ZTE Blade V 2020 price in India with latest offers.
Source: Sushansu Ambhore on Twitter