ZTE A2021 Price in India 2020
Few days back there was official announcement for ZTE AXON 11 5G which was set for official launch on March 23rd, 2020.
Now Geekbench has listed yet another model which ZTE A2021 with speculations going on the model is actually ZTE AXON 11 5G but if we closely compare the features quality especially the processing power, that may not be the case. Sounds more like a mid price range model and ZTE A2021 price in India could be just around Rs. 11,999.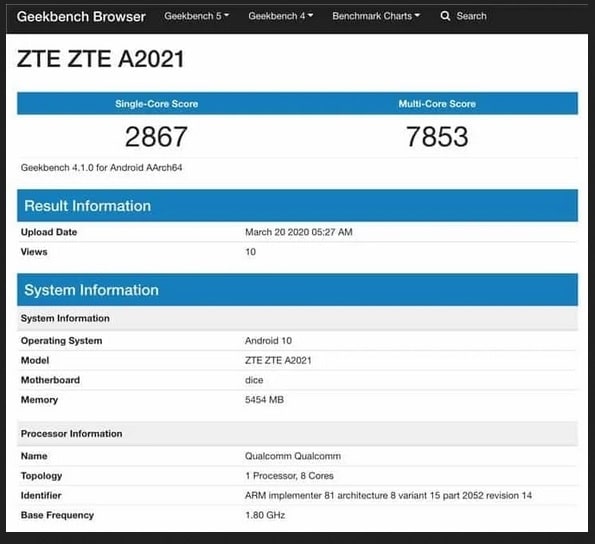 Coming to what made both the models different is indicated in the single core score of 2867 and multi core score of 7,853. This is more close to what we see in a smartphone with Snapdragon 765 or 765G but does not go with what comes from 865 Soc which is what has been revealed about ZTE AXON 11 5G.
Another feature of ZTE A2021 listing which gives rise to the doubt is presence of 6GB RAM. Since AXON 11 5G is slated to be high end model for 5G, with 6GB RAM it would not fit into the character. Hence quite likely ZTE A2021 is either a new mid range smartphone for 5G or could be ZTE AXON 11 5G Lite model (lighter version).
The listing also shows ZTE A2021 having Android 10 OS in its portfolio. The model carries Octa core Qualcomm processor with 1.80GHz base frequency and ARM implementer 81 architecture. There are just 2 days left when the air will be clear and we would be much more information (compare with ZTE A2020 Pro).
Soon we will provide update on ZTE A2021 price in India and also on its other features and specifications like screen quality, camera quality and battery.