When there is new technology which is not in line with traditional definitions, there will certainly be different interpretations to it. Sometime in the process, the discussion goes more in to what the name shall be rather than the core innovation that has gone into the building of that features.
ZTE was expected for a long time to bring its foldable smartphone ZTE Axon M which is Multy model basically (M comes from Multy) which has been finally delivered in US on AT&T with different buying options i.e. upfront and on EMIs.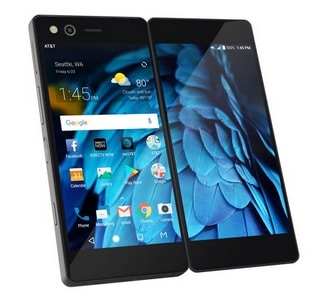 The Multy model from ZTE is not expected to hit Indian market in coming weeks but with in this year can not be ruled out. When it is so, ZTE Axon M price in India may come in the range of Rs.30-35K which is just an estimate though some site have already started mentioning its price. This is a top notch model but ultimately it will be always talked about more for its foldable feature only.
Lets put more light on dual screen aspect of ZTE Axon M which is fascinating as well and prospective buyer shall be adequately aware before buying. Each single screen in ZTE model Axon M has 5.2 inch size where as in combined screen status, the screen size is 6.75 inch. There are four multiple ways you can work on the screen based on the demand and purpose.
Suppose you are sitting with your friends and want to watch 2 different programe than dual mode in ZTE Axon M will be right option. Each programe can run separately on two screen at the same time. In case you want to enjoy one type of programe, than extended mode will be the option and you can enjoy full 6.75 inch screen. The demarcation line between both screen will be slightly visible there.
In mirror mode you can watch one same programe on both screens at the same time. Last one is traditional mode which is what you have been doing on your smartphone so far.
Performance and space is key for ZTE Axon M and hence it has 64GB ROM and 4GB RAM. It has very powerful processor and battery as well to ensure seamless working for very good amount of time.
There can be good demand for this model unless ZTE Axon M price in India goes on higher side.