ZTE Axon 30 Ultra Aerospace Edition Price in India
Its quite common to bring out special edition models in smartphone to mark special occasion which can be achievement of a country also. Some time we had seen Olympic Edition smartphone from Samsung and now ZTE is coming out with ZTE Axon 30 Ultra Aerospace Edition which is to celebrate recent success of China into space. Not much different will come out in the features side of this model except few improvements like first model away from gaming category with 20GB RAM (also read ZTE AXon 11 SE 5G).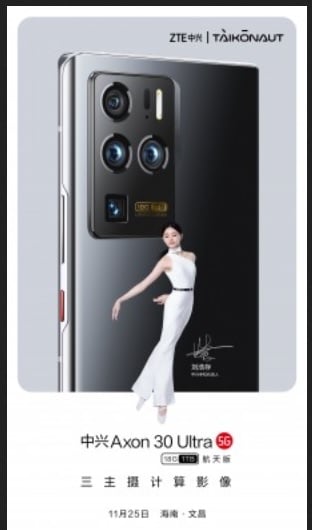 Being a top end model, ZTE Axon 30 Ultra Aerospace Edition is expected to come around price of Rs. 55,999 (CNY6,667).
In China nationalism has been brought into focus once again and launch of models like ZTE Axon 30 Ultra Aerospace Edition aims to capture the sentiments around the same. The model is set for launch n Chinese market on November 25th, 2021 and one can expect to hit Indian market by year end of 2021 or start of 2022 if it happens.
Though there are models with high RAM in gaming category and even ZTE has Axon 30 5G with total RAM of 20GB (12GB on board and 8GB virtual), ZTE Axon 30 Ultra Aerospace Edition is going to be much ahead of them though overall RAM here also is 20GB only. The model has 18GB of on board RAM and 2GB of virtual RAM. It comes with 1TTB of hard disc.
With this RAM configuration one can with out thinking can expect rest of the features liek processor, camera, battery, screen and Android OS to be in their top notch position.
In coming days, we will get more information on ZTE Axon 30 Ultra Aerospace Edition price in India along with full features details.