Surprises can come from any side and same is true for a smartphone also and most of the time they are in positive direction for end users. Quite a good number of brands every now and than try with a ultra low cost model which may not appeal to users in first glance but careful look gives different thought.
ZTE Tempo X is one such model company is trying to test its bet which is against likes of Samsung J3 Emerge. Though both are available on the Boost, ZTE Tempo X does not sound so heavy on the J3 model but still there is always market for every differently composed model.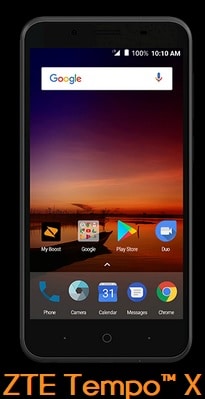 ZTE Tempo X is available at $79.99 MSRP which is not so heavy dig on the pocket of many smartphone users and it will make more sense if you want to use it second model. In terms of functionality, one should not go too far and must limit imagination to short to medium length only. Though the features list is quite impressive and modern as well, the test of time and practicality is not always the same.
Though ZTE Tempo X has larger screen of 5 inch, the resolution is just 480×854 pixels which is quite self explaintory what one shall watch on it and what not. It has 1GB RAM and 1.0GHz Quad core processor making it more suitable for lighter files, games but do not expect to play games with graphics or full HD movies. This is part of the trade off one has to always make while going for ultra low price models like ZTE Tempo X but still it makes sense in many ways to buy them.
Irrespective of the price tag, most users do not want to see big compromise on the OS front and brand takes care of that well. ZTE Tempo X has Android 7.1.1 Nougat but do not plan to download very latest apps and enjoy them seamlessly here. It has 5MP main camera and 2MP selfie which is quite basic and no harm in using once in a while. 2,200 mAh battery sounds more like in the medium duration range and again will work satisfactorily on light to medium level of applications.
One can expect price in India for ZTE Tempo X may be around Rs. 4,000 if its launched in the future.