Blackview Shark 8 Price in India
There are plenty of smartphone players which have very good smartphone in their portfolio but not much known beyond their countries of operations. Generally they come out with feature rich smartphone with latest trends in design and yet set at very low price range and Blackview is one of them. It has listed its latest model Blackview Shark 8 which features 6.78 inch screen and 64MP main camera which not many smartphone in the Indian market have. Interestingly Blackview Shark 8 price in India is expected to be around Rs. 19,999 only and model is to be launched in the month of November 2023 (compare with Blackview A96 price at online stores in India).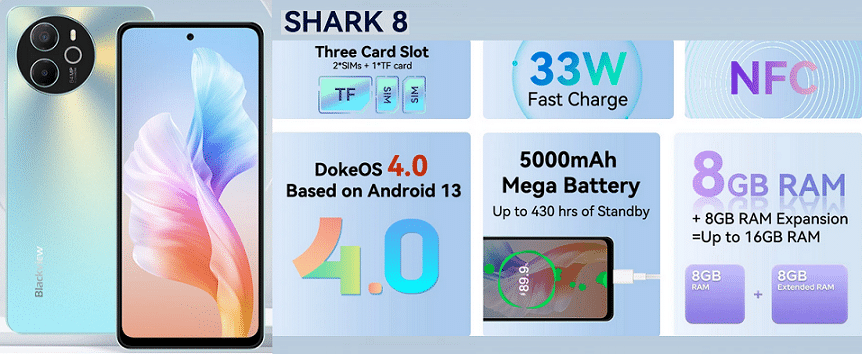 Blackview Shark 8 Features
In terms of usability Blackview Shark 8 will simply stand out when it comes to photography and entertainment especially among the low price entry level smartphone. Blackview Shark 8 features 6.78 inch screen with 120Hz dynamic refresh rate making it perfect model to enjoy latest games with heavy scrolling. If you want to access social media and other online platform requiring fast scrolling with in and across pages than Blackview Shark 8 will do a very smooth task for you (also read on Blackview X at low price in India).
Blackview Shark 8 Features list
6.78 inch screen
1080×2460 pixel FHD display
Dynamic 120Hz refresh rate
Triple set rear camera with 64MP main camera
13MP front camera
DokeOS 4 based on Android 13 OS
8GB RAM LPDDR4X (8GB virtual RAM)
128GB inbuilt memory
Blackview Shark 8 Specifications
When it comes to specifications of Blackview Shark 8 one would simply get a feel of very quality smartphone. Available in 3 vibrant colors of gold, blue and grey it has thickness of just 8.35mm and very light in weight also. To ensure there is no need to frequent charging the smartphone is powered with 5,000 mAh battery which also has 33W fast charging capacity. To give seamless performance even on heavy applications the smartphone has MediaTek Helio G99 chipset.
Blackview Shark 8 Specifications list
Colors: blue, gold, grey
Thickness: 8.35mm
MediaTek Helio G99 chipset
5,000 mAh battery
33W fast charging
430 hours of stand by
NFC
Triple card slots: 2 for SIM and 1 for TB
Blackview Shark 8 Review
When it comes to an entry level smartphone which stands out for photography and display certainly Blackview Shark 8 is among the best choices. Also it has very high potential to deliver top level performance and will ensure its always smooth and seamless experience working with this smartphone. Having fast charging of just 33W may be an limitations for some users and many models comes with 66W now a days still in the entry level price range Blackview Shark 8 is good value for money model.
Soon we will update information on online price of Blackview Shark 8 in India in 2023.