Oukitel C35 Price in India
It is difficult to predict the trend in smartphone industry in India in terms of 4G, 5G models and also how various players perform given the dynamic nature of competition. Only few small brands have been able to stand on their feet especially in the 4G and 5G segment and Oukitel is one of them. The company has smartphones with quality features for screen and performance offering in very reasonable price range in India and one can see it in upcoming Oukitel C35 model in India in 2023. Set for launch in coming months, Oukitel C35 price in India is expected to be around Rs.12,999 only (£156.108 at official site of Oukitel). Also rear Oukitel WP6 4G smartphone in India here.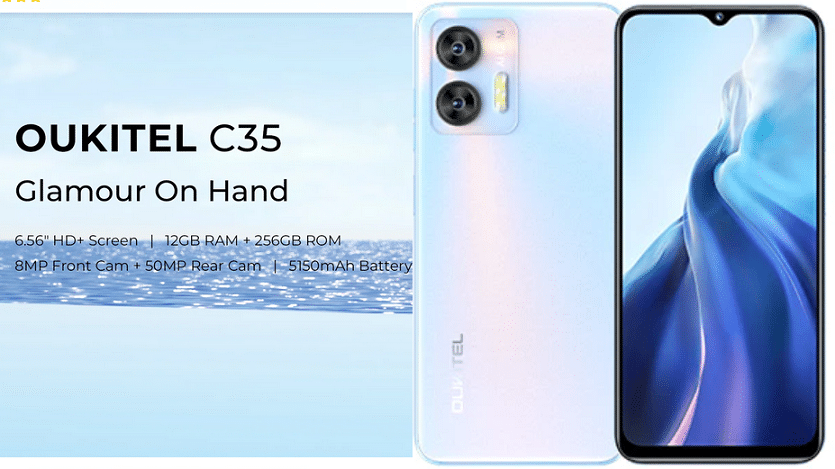 Oukitel C35 Features
Despite Oukitel C35 being a budget smartphone in India, it has very high quality features which will make it highly suitable especially for gaming and video streaming. It has 12GB RAM and 256GB of inbuilt storage which is quite unexpected for a model in this price range. To make it suitable for playing long hours of gaming and video streaming, Oukitel C35 is powered with 5,150 mAh battery with 6 hours of video playback and 6 gaming.
Oukitel C35 Features list
RAM: 12GB
ROM: 256GB
Battery: 5,150 mAh
Battery support: 6 hours video, 6 hours game, 25 hours calling
Screen: 6.56 inch
Android: 13 (latest OS version)
Oukitel C35 Specifications
The upcoming smartphone Oukitel C35 in India is power packed when it comes to quality of specifications and one can count 50MP rear end camera, good processor and many more. Having UNISOC T616 SoC is certainly going to make gaming experience and streaming of videos on Oukitel C35 very exciting especially when we factor in presence of 12GB RAM and latest OS version. It also comes with dual security features in the form of finger scanner and Face ID lock. It will also ensure the users have quality photography experience with its 8M front and 50MP rear end camera having pro, Panorama, Portrait and Pro mode.
Oukitel C35 Specifications List
Screen brightness: 400 nits
Screen resolution: 720×1600 pixel
Aspect ratio: 20:9
Screen quality: HD
Processor: UNISOC T616
Front camera: 8MP
Rear camera: 50MP
Face scanner
Finger print scanner
Weight: 199 g
Thickness: 9.18 mm
Network: 4G
Oukitel C35 Price and Launch
The low price model Oukitel C35 is available for online buying from its official site where one would get decent discount also. It is expected to be launched in Indian market in the year end of 2023. With above mentioned features quality, Oukitel C35 price in India at around Rs. 12,999 will surely make it a good buy.