Blackview A96 Price in India
There is lot more one can enjoy on 4G network especially when there is no main need to shift to 5G services. Thanks to new 4G smartphones like Blackview A96 which are coming to market with much better performance level as well as amazing design without adding much to cost. Already launched officially (available on AliExpress for buying) Blackview A96 price in India is expected to be around Rs. 12,999 only which not much for any gaming lover or movie freak. Most amazing features of Blackview A96 are Harman Kardon audio, 16MP AI supported 96 degree wide selfie camera and 120Hz refresh rate to ensure scrolling at very high speed which is quite important for social media usage etc. One can compare its price with Blackview model Shark 8 price in India.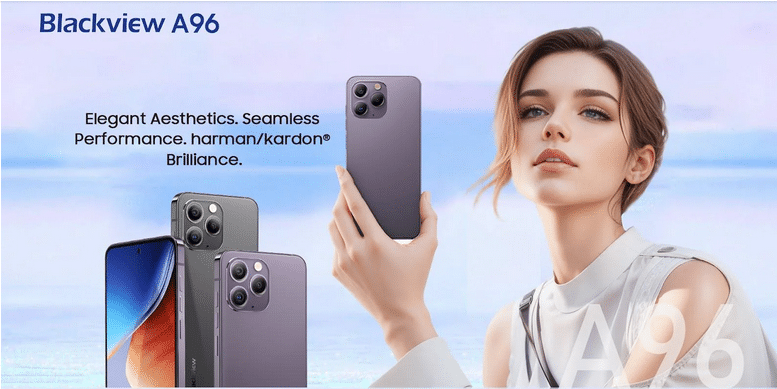 Blackview A96 Features
When it comes to features Blackview A96 is one of the promising smartphone in the 4G category which gets even better with enhancement options. The smartphone has Harman Kardon audio technology which has very high standards when it comes to audio quality whether while playing games or listing to audio and video files. The 2023 4G smartphone Blackview A96 comes with 8GB and 12GB RAM options which can be simply doubled without adding to cost which makes it versatile in usability as per the need of the consumer. With 96 degree wide angle 16MP selfie camera having AI support one can take group selfie also with same quality as individual selfies.
Blackview A96 Features list
Harman Kardon audio technology
96 degree angle 16MP selfie camera
OTG support
120Hz refresh rate
6nm Helios G99 for better gaming experience
Android 13 OS
6.5 inch screen
Blackview A96 Specifications
Even on the specifications side, Blackview A96 is quite an impressive smartphone which has very elegant design. The new model comes with very thin bezel and sharp edges with 20:9 aspect ratio giving much wider space on screen. With 2.4K display quality when can enjoy top quality visual experience for any application on this smartphone. With 8GB and 12GB RAM model which can be simply doubled this model gives top performance even when you are on multi tasking. There is screen protection technology so as to ensure health of eyes when you are playing games for longer duration. Also Blackview A96 has heat resistant technology to keep the model cool in long duration applications.
Blackview A96 Specifications list
8GB/12GB RAM models
48MP main camera along with ultra wide and macro camera
18W fast charging
Bluetooth
USB connectivity
Strong battery
heat resistant technology
Eye protection technology
256GB ROM
Blackview A96 Review
For sure Blackview A96 is going to be one of the top model in low price range category in India when it comes to 4G category. Though the brand is not so popular, its select models are quite appealing and worth giving a thought. Already it has been officially launched on August 2, 2023 and available for online buying (buy Blackview A96 online from AliExpress). In India, Blackview A96 is expected to be launched in November 2023. Being 4G model for entry level users, Blackview A96 price in India is expected to be around Rs. 12,999 only.