OUKITEL WP6 Price in India
There will be hardly any smartphone which can pass the test of drill, the machine which can punch holes in hard surfaces. However the upcoming rugged model OUKITEL WP6 is an exception and soon one can try on their own after 20th Feb, 2020 when its officially available for sale at price of $239.99 in US. One can compare its price with Oukitel C35 best price in India.
It may be quite new brand for general smartphone users but for rugged phone users, OUKITEL is quite known. Apart from this, it boast very good quality features especially on battery front to give lasting working time in tough conditions where frequent charging is not an option (also read Garmin Tactix Delta rugged phone).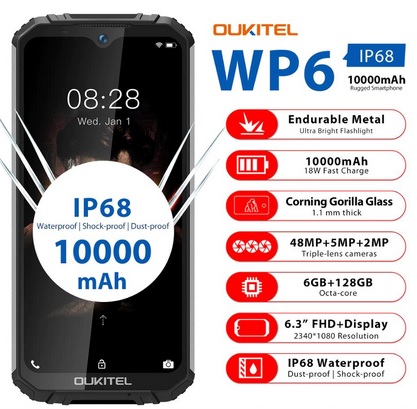 In India, OUKITEL WP6 price may come around Rs. 12,999 and will have very few models to compete with in the rugged category. However there is very niche market for such models which include people working in fire safety, high temperature conditions etc.
Coming to the improved features, OUKITEL WP6 has 6.3 inch screen with 19.5:9 aspect ratio giving even better space for display. In the screen design side the OUKITEL smartphone WP6 carries water drop notch. The high quality 10,000 mAh battery with 9V/2V is a power bank in itself in one way (compare with CAT S32 model).
Powered with AI, there are three cameras in OUKITEL WP6 with 48MP+5MP+2MP combination in rectangular form in the back side. With 6GB RAM and 128GB ROM, it will work wonders even in high end applications. There is Android 10 OS inside for enhanced level of performance. Certainly OUKITEL model WP6 will offer a macho like experience to its end users.
When its launched in India, we will update on official price for OUKITEL WP6 also.
OUKITEL WP6 Features list
6.3 inch screen
19.5:9 aspect ratio
6GB RAM
128GB ROM
48MP+5MP+2MP AI tripple camera
16MP AI front camera
Finger print scanner on side
Flash light
IP68 water and dust proof
10000 mAh battery