OnePlus Z Price in India 2020
Most of the smartphone players are in all three or at least segments i.e. low, mid and high price segment in India.
However there was one exception to this and that is Chinese player OnePlus but soon it is going to change with its upcoming model OnePlus Z which is for mid price range segment with expected price of Rs. 11,999. It would be difficult to predict if we would get to see any entry level models from this brand.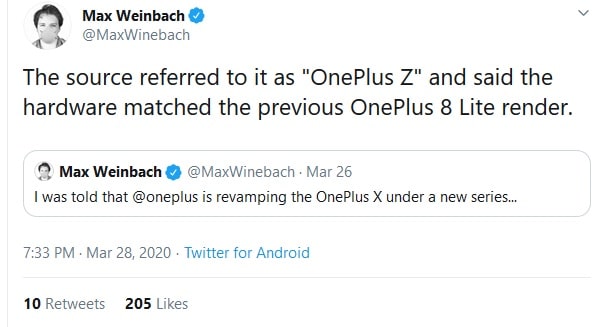 There has been reliable but select leaks on Twitter on arrival of OnePlus Z in the market along with few hints on the features quality. In the past, brand had OnePlus X which is a five year model in the same segment. Some may call OnePlus Z as rebranded model of X but lot has changed on multi levels in between and its not logical to say so.
On the display side, OnePlus Z would carry a flat screen probably 6.5 inch screen with flat display and punch hole. The screen may carry 90Hz panel to give better experience in gaming, entertainment and other applications. On the camera front, the mid range smartphone may carry triple set of camera without AI.
The processor in OnePlus Z is expected to MediaTek and hopefully Helio P90 for better processing power. On the OS front, Android 10 would be the right platform. Most Chinese models in current time are coming with fast charging, OnePlus Z may also match them with 10W at least. On the RAM part, the model shall have at least 6GB and 128GB ROM to make it really appealing. Not so sure if this will be a 4G model or would be for 5G network also.
Soon we will provide more information on OnePlus Z price in India and other features like battery, front camera etc. Some people also claim it to be more close to OnePlus 8 Lite smartphone.