boAt Wave Connect Price in India
One key for any gadget to be successful is to offer multiple usages which temps wide variety of consumers to buy it. We have seen smartwatches with health apps, calling and messaging, connect on social media account etc. Now we have Alexa support coming to a smartwatch model which is one would see in boAt Wave Connect smartwatch. The brand many models in Indian market at affordable entry level range and boAt Wave Connect price in India is also in same line at Rs. 2,499. On the official site the price of boAt Wave Connect is shown as Rs. 3,499 but one can opt for buying from popular online stores to get best deal.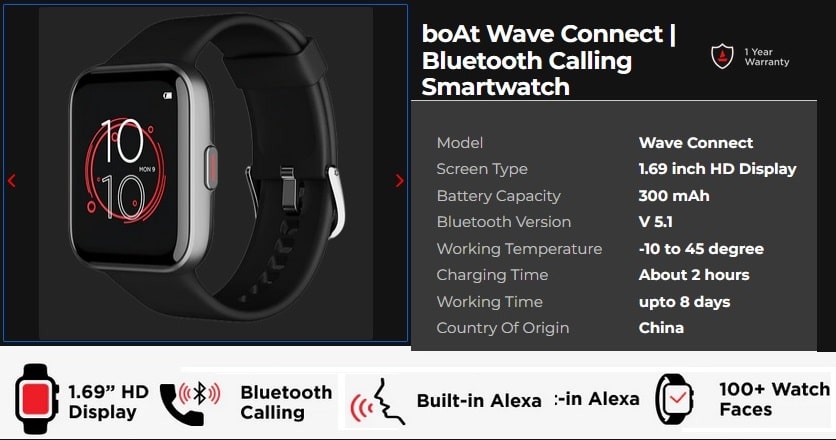 boAt Wave Connect Features
Though having Alexa support in the features list of boAt Wave Connect got our attention but it would be interesting to see how entry level users in less than Rs. 2,500 would be really in need of this. Only in medium to high end consumers opt for such kind of usages. Another main feature provided in boAt Wave Connect is Bluetooth calling option and users can save up to 20 contacts also.
boAt Wave Connect Features list

Alexa support
Bluetooth calling
100+ cloud face to choose based on daily mood and occasion
1.69 inch HD display
boAt Wave Connect Specifications
Meant to be affordable for first time buyers, boAt Wave Connect has very basic specifications only. The smartwatch has 7 days of battery support in normal usage and for two days with bluetooth calling. There are around 60+ sports modes one can take benefit of in regard to health and fitness activities. Being this summer period the sedentary and hydration alerts this watch will provide will be quite useful for Indian consumers.
boAt Wave Connect Specification list

60+ sports modes
Bluetooth V5.1
Working temperature: -10 to 45 degree
IP68 standard
Battery capacity: 300 mAh
Charging time: 2 hours
Battery support: up to 7 days (2 days with Bluetooth calling)
The model is already officially launched and one can buy boAt Wave Connect online from its official site at price of Rs. 3,499 which is shown to be at a discount of 50%. How it would be wiser to buy boAt Wave Connect at price of Rs. 2,499 from Flipkart which has already listed it. The latest 2022 smartwatch comes with a 1 year warranty also.
boAt Wave Connect Price comparison in India

Compare price of boAt Wave Connect in India with boAt watch Wave Lite: Rs. 2,499 Vs Rs. 1,799
Compare price of boAt Wave Connect with Wave Watch Pro: Rs. 2,499 Vs. Rs. 3,299
Compare with boAt Wave Connect price with Wave smartwatch model Pro 47 in India: Rs. 2,499 Vs. Rs. 3,499