KUMI GW16 Price in India
There are many smartwatch models which primarily caters to the fitness segment but KUMI GW16 is the one which finds usage in COVID-19 situation also.
Since the virus is going to stay for long time or may for ever, having smartwatch like KUMI GW16 at very expected affordable price in India of Rs. 1,499 (less than $25.00) is quite sensible. The model comes with thermometer and users can check temp any time whenever they feel they have come in contact with the virus. There are host of other features in KUMI GW16 which are for other health aspects.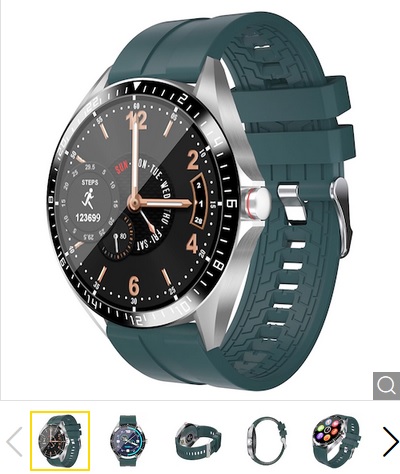 Interestingly despite being at very low price, KUMI GW16 comes very close to Huawei Watch GT 2 in display which was also launched in Indian market few days back. Another feature of KUMI GW16 which is quite fascinating is Bluetooth 5.0 though location based features like GPS are missing here.
With 1.28 inch screen and 240×240 pixels resolution, KUMI GW16 is more for the entry level users who need basic functionality. In terms of OS, its suitable for both Android and iOS with Wearfot 2.0 platform. The battery is 220 mAh and would last for 5 days in a recharge.
In design wise, KUMI GW16 comes in black and silver model though users can choose from three strap color models i.e. black, orange and green. With IP67 certification in place, it can be used in rugged conditions also. Though some of the recent smartwatches are coming in rectangular model, KUMI GW16 is in old rectangular shape only.
Soon we will provide more information on KUMI GW16 price in India 2020 for online buying.