LILYGO TTGO T-Watch 2020 Price in India
Yesterday we had reported on Huami Amazfit Are smartwatch which is quite low in price and today there is one more smartwatch which may remain cheapest smartwatch for a long time. LILYGO TTGO T-Watch 2020 is the one we got note of today and its highly customisable also which is not seen in many models.
LILYGO TTGO T-Watch 2020 price in India is Rs. 1,785 and will be shipped from China. There are very basic features available on this but one can add applications to a very large extent.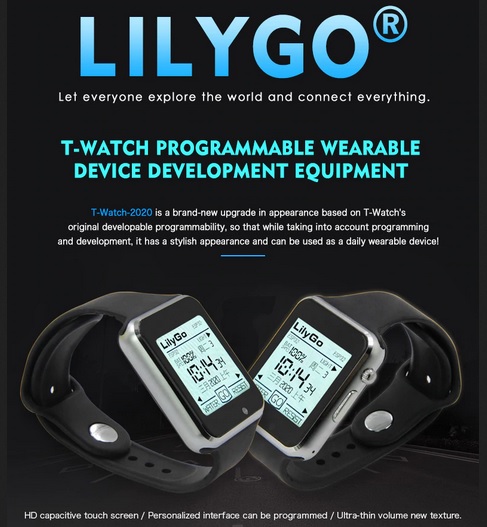 The LILYGO TTGO T-Watch smartwatch 2020 has 1.54 inch LCD capacitive touch screen with 240×240 resolution making it much larger than basic models available in the market. Available in octagona design, it just weighs 58.5 grams and very comfortable straps. With aluminium magnesium body, the smartwatch has 50% more hardness than normal material.
The LILYGO smartwatch TTGO T-Watch 2020 comes with 350 ma Limithium battery and recharges with 3.5V and working voltage is 3.3V. In the connectivity side, it has Bluetooth v4.2 BR/EDR and 802.11 b/g/n for Wi-Fi for wireless connection.
The new LILYGO model TTGO T-Watch 2020 comes with 16MB flash memory, P SRAM 8MB and 520 KiB SRAM. It can be programmed with popular programming languages such as Arduino, Scratch, micropython and pictoblox etc.
On the sensor front LILYGO TTGO T-Watch 2020 has BMA423 three-axis accelerometer, built-in step counting algorithm, activity recognition / tracking, advanced gesture recognition.
At current level LILYGO TTGO T-Watch 2020 price in India is quite appealing.
Source: Tindie and AliExpress