Huawei Talkband B6 Price in India
We reported on the arrival of wearable KUMI GW16 which can help in monitoring COVID-19 and now there is one more from Huawei i.e. Huawei Talkband B6 with blood oxygen sensor.
Though its going to be a high end device as Huawei Talkband B6 price in India is expected to be around Rs. 19,999. There are few additional features and enhanced features as well in Huawei Talkband B6 like 1.53 inch screen as compared to B5 model.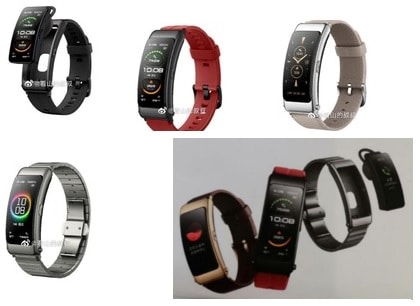 With SpO2 sensor, Huawei Talkband B6 users can trck their welcome oxygen level which directly gets adversely impacted with respiratory organ related diseases like COVID-19. Apart from this, the wearable device also comes with heart rate monitor and sleep tracker. It can monitor sleep quality depending on if its light sleep, deep sleep, REM stage and wakefulness so that you can check quality of your sleep.
For better quality operations, Huawei Talkband B6 has 1.53 inch AMOLED display screen as compared to 1.13 inch in B5 Talkband model which is significant improvement. Also it supports Bluetooth 5.2 which though its headset option can be used for multitude of functions. On this talk band, you can attend calls similar to regular headphones.
Huawei Talkband B6 comes with four different colors options which include steel strap (leaked recently), beige leather, silicon strap version in red and black. In terms of information on battery quality, weight and connectivity options in Huawei Talkband B6 we need to wait for some more time.
We will provide latest information on Huawei Talkband B6 price in India 2020 and also its expected launch here soon.