Huawei Watch Fit Elegant Edition Price in India
The new smart watches are not only meant to provide multiple functions but also be a style statement.
That also shall get reflected in features quality and Huawei Watch Fit Elegant Edition stands true for that especially as compared to base model Huawei Watch Fit. Soon to be launched in China, Huawei Watch Fit Elegant Edition could cost around Rs. 8,999 in Indian market.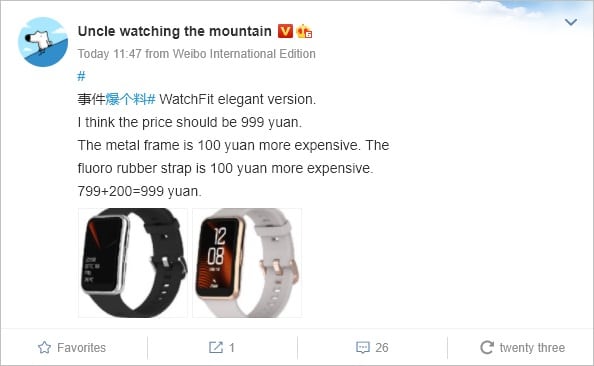 As the name suggest, Huawei Watch model Fit Elegant Edition will have elegant look as it will have metal frame and fluoro rubber strap. They are also the main factor in increased price over Huawei Watch Fit model.
There are multiple features where Huawei Smartwatch Fit Elegant Edition will stand better than Fit model. To start with it has a barometer and also stroke counter for swimming. In terms of display, the new watch has 390×390 pixel resolution which is around 19% better over Fit model.
Huawei Watch Fit model Elegant Edition has 10.5mm thickness and hence 0.2mm thinner than Fit and in terms of pixel density with 460 ppi, its 41% better. The Huawei Watch Fit Elegant Edition is slightly shorter with 42.8mm size.
Its claimed the battery of Huawei Watch Fit Elegant Edition will last for a full 10 days period. In connectivity side, it comes with Bluetooth 5.0, GPS. It also carries a internal memory of 4GB.
In India it may get launched in the period of January 2021 at price of around Rs. 8,999.
Source: Huawei Official site