Huawei Y8P Price in India 2020
With the current economic downturn set to last for many more months, its quite logical to bring out budget smartphone in 4G network space and Huawei is doing the same.
With the launch of Huawei Enjoy Z which is considered to be the cheapest 5G model, the company is also ready with Huawei Y8P set for launch on May 26th, 2020, a low price 4G model. It may take few weeks to hit Indian market, Huawei Y8P price in India could be expected to be just around Rs. 6,999 only.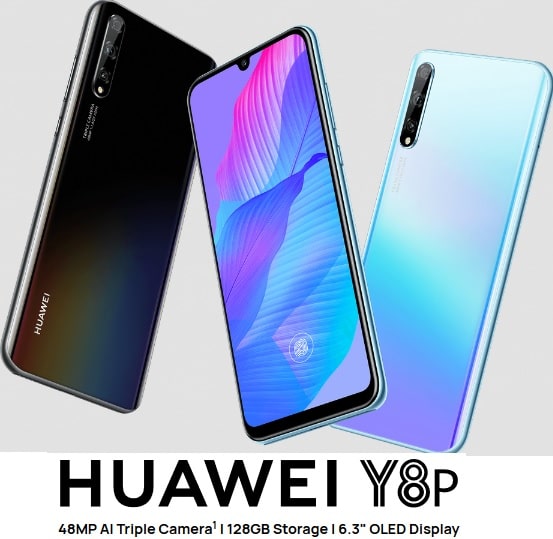 With the finer details of features of Huawei Y8P available on official Huawei site, the smartphone is more of a mix of characteristics. On one hand Huawei Y8P is top notch quality features but at the same time one shall be ready to live with traditional shots also (compare with Huawei Y8S).
To start with whats exciting features of Huawei Y8P, first is the screen part. It has 6.3 inch OLED screen with dew drop display with 16MP selfie shooter embedded into it. There also comes the in screen finger scanner with very quite fast processing. The curved screen of Huawei Y8P adds to better screen to display ratio of 90.17%.
Huawei Y8P smartphone comes with tripple set of camera arranged in vertical row along with LED flash on the bottom. The 48MP main camera is quite amazing and with 8MP ultra wide camera (offering view of 120%) and 2MP depth camera one can be sure of capting very finer details of objects irrespective of distance and angle at which they are places. Its further enhanced due to the inbuilt AI power into it.
Now comes the features which are little drawbacks in Huawei Y8P and it starts with RAM. The model has 6GB RAM (some claims it has 4GB RAM model also) which is not so powerful for gaming and 128GB ROM (expandable up to 256GB). With GPU Turbo 3.0, it covers up to 20 very popular games but check the speed on your own.
Though Huawei Y8P comes with 4,000 mAh battery but the recharging rate is old styled 10W. So if you are heavily into gaming, be ready to recharge for longer duration.
Soon we will update on latest information on Huawei Y8P price in India 2020.