Huawei Smart Watch D Price in India 2021
Gradually companies are moving the wearables from sporting activities to health and than to medical categories. Couple of brands have already done that especially during the pandemic time and now Huawei is also following the same trend with Huawei smart watch D. The upcoming smart watch set for launch in later part of 2021 comes with medical analysis of blood including blood pressure. It has already conducted trials on select people to test the efficacy of the watch and now may soon go for clinical trials also. Its bit early to judge about Huawei smart watch D price in India (compare with Huawei Watch Fit Elegant Edition).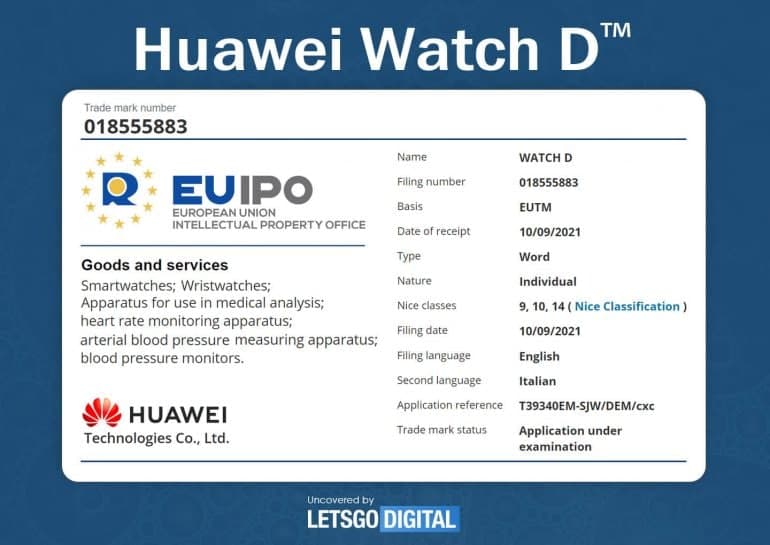 The Huawei smart watch D will cover heart rate monitoring and blood pressure measuring as its two main medical usages. There are expected to more to such as there are limited features mentioned in the patent filing documents with EU authority EUIPO (also read Huawei Watch GT 2e).
In terms of hardware and software related features of Huawei smart watch D, one has to wait for more information. This is the second time when information on Huawei smart watch D has come from formal source. Hence its arrival is for sure and it shall be in EU market and may be China too along with. Anything can change with the course of time and we will be able to know when it happens only.
Also the company has Huawei smart watch series in the Indian market with Watch 3 model is next model and this new model will add width to its portfolio. Soon we will update on expected Huawei smart watch D price in India in at least if not final price.