Huawei Honor Magic V Foldable phone Price in India
Now its picking up the pace though the race started quite long time ago. We are talking about foldable phone and one can not imagine a Chinese brand like Huawei to stay away from it. There has been rumors for a long time about the development of foldable phone from Huawei in 2021 itself. The first leaked image of Huawei Honor Magic V Foldable phone in January 2021 gave a basic hint on its features. Now the second leaked image has shed more light onto its design, launch and features like it being the first foldable model with latest processor i.e. Snapdragon 8 Gen 1.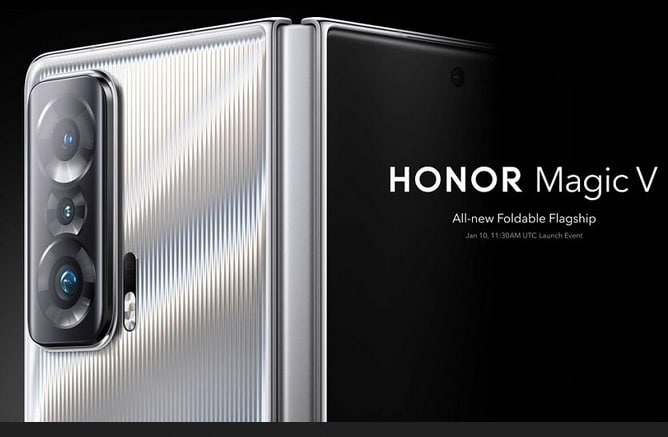 If a smartphone carries Snapdragon 8 Gen 1 chip set than there are certain features which are obviously has to be there. Like it will have latest Android 12 OS, very good RAM and off course large internal memory also. Also one can easily say the model is meant for 5G network of services which will be rolled out in India in this year.
Huawei Honor Magic V Foldable phone Features list (expected)
Snapdragon 8 Gen 1
Android 12 OS
Drop notch display design
120Hz refresh rate on outer screen
90Hz refersh rate on inner screen
66W super fast charging
RAM: NA
ROM: NA
Screen size: NA
Primary camera: NA
Selfie camera: NA
Battery: NA
The leak of Huawei Honor Foldable phone Magic V has confirmed the first market for the model is going to be China and launch will be on January 10th, 2022. Hence it will be the first foldable model to be rolled out in 2022. In due course of time the model may get launched in Indian market as well (you may like to read OPPO Foldable model in India).
As per the image, Huawei Honor Magic V Foldable phone will have triple set of camera along with LED flash and probably will carry AI support also. The screen will have very thin bezel and drop notch on top right corner. The outer screen is expected to have 120Hz refresh rate though for inside it may be just 90Hz (also read Nokia Foldable smartphone in India).
In the charging side, Huawei Foldable phone Honor Magic V Foldable phone will have 66W super fast charging. In design side the model has some similarity with flip models as the front and back sides are not one single surface.
Hopefully the model will be launched in India in the first quarter of 2022 and will get information on Huawei Honor Magic V Foldable phone price in India in coming time. Samsung with models like Z Flip is leading brand in the foldable smartphone segment.