Huawei Foldable smartphone 2020 Price in India
One of the new trend is going to be foldable smartphone which also comes in different variations and the strength of the company would definitely be seen in how good it turns out to be in this segment (also read latest foldable Huawei Mate X5 model price in India.
Huawei being the top Chinese player certainly would not be lagging behind and so its coming out with Huawei Foldable smartphone which would be announced on February 24th, 2020 through virtual press conference. When it comes to price, design and other features of upcoming Huawei Foldable smartphone 2020 which could be Huawei Mate XS, its far too early but one can expect it to be successor of Huawei Mate X model (read latest information on foldable Huawei Honor phone Magic V on price and features).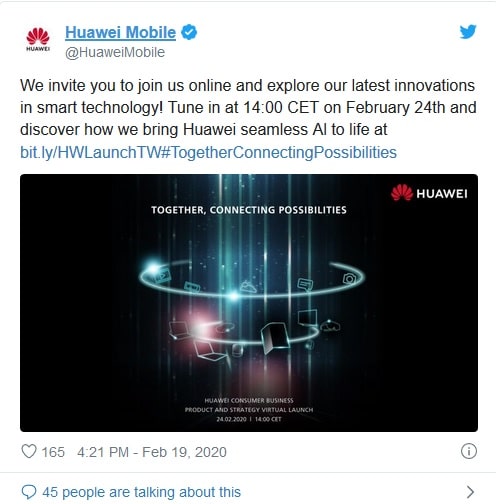 There is whole lot of foldable smartphone from Nokia, 5G enabled Vivo iQOO and quite recently launched Samsung Galaxy Z Flip 2020. The list is going to get wider with launch of Huawei Foldable and it may come in Indian market in coming time.
Officially Huawei announced in the year 2019 itself the arrival of its Huawei Foldable smartphone after Huawei Mate X but it never came in the said year and seems now its going to be the right time also. Corona virus is affecting new announcements especially from Chinese smartphone players and may have role to play in the Huawei Foldable smartphone also.
At the same event, Huawei will show case Huawei 2020 MateBook X Pro which is also teased on its official Twitter account. So far there is guess of these two new products only but one can not rule out space for surprise also. We would get better information on Huawei Foldable inclduing its model name (probably Huawei Mate XS), screen, foldable design, RAM, ROM, Processor and battery etc.
The information on Huawei Foldable smartphone price in India will be posted here.