Just I was browsing through today's news and could not take my eye off when I saw report claiming Huawei taking over Apple to become top smartphone player in China.
It does not come so easily and brand has to have not only strong products regularly in pipe line but also being successful at least in top market. Going one step further, the brand is coming up with Huawei Mate 10 Pro which is part of 3 models under same 10 series to counter what Apple has just tried and tested now with iPhone.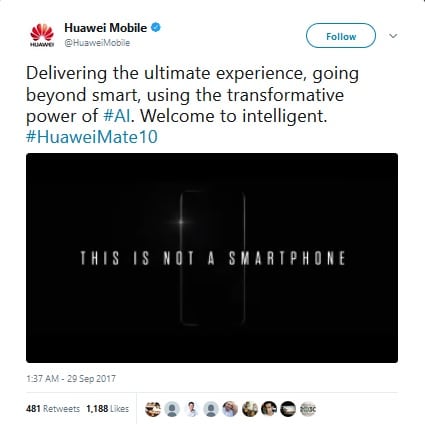 If the model is going to give tough task to iPhone, certainly Huawei Mate 10 Pro price in India (expected) will not be affordable to normal users and its quite likely to be in the range of $800-900 (unconfirmed). In any case it will make the game in the market quite interesting as one would get to see features which will decide the trend in coming days.
Intentionally and pro actively, Huawei is generating lot of buzz with selected leaks on look and select features of Huawei Mate 10 Pro model. If we look at the Huawei Mate 10 Pro teaser on the official Twitter page, it will look more like a robotic machine or least to say intelligent machine. In some way you can take it as promo of a sci-fi movie which shows the model will be simply more than a smartphone.
Interesting the brand Huawei has adopted strategy of giving different names to same model leading to more curiosity among tech savy consumer and more to readers. Huawei Mate 10 Pro is set for launch on Oct 16th, 2017 which is just few days away.
The leaks of Huawei Mate 10 Pro suggest it will be in three different colors, powered with Android 7.1 Nougat series. Some suggest it will carry three sets of cameras i.e. 12MP+20MP at rear but only 8MP for selfies. Having bezel less screen of 5.9 inch size, high aspect ratio for better display is also expected in this upcoming model.
Keeping pace with technology, Huawei smartphone Mate 10 Pro will have inbuilt artificial intelligence which will bring all the difference.
Lets wait for Huawei Mate 10 Pro price in India which shall be informed much before this year end. Recently we have also seen Huawei Maimang 6 hitting the stores in China and India at same time.