Vivo iQOO 3 5G Price in India
Now we are getting into the new world of 5G smartphone which will bring new wave of experience. Chinese players are at the for front of this wave and every now and than we are seeing new 5G enabled smartphone. The upcoming smartphone for 2020 Vivo iQOO 3 5G has been listed on 3C after certification and hence its a matter of short time before it gets launched in Chinese market. In a shorter span, Vivo iQOO 3 5G shall also come to Indian market but its little early to comment on its price.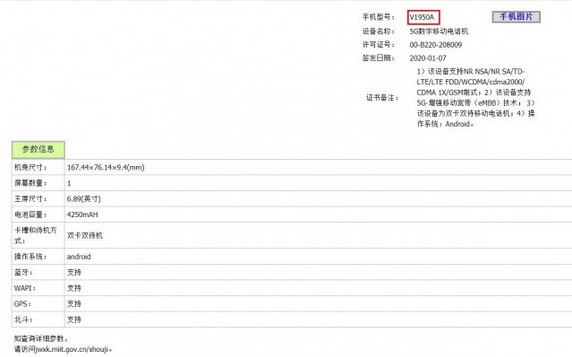 Vivo iQOO 3 5G Features list
6.89 inch screen
4,250 mAh battery
Dimensions: 167.44×76.14×9.4 mm
The 2020 upcoming smartphone Vivo iQOO 3 5G is V1950A model and since the listing on 3C is in Chinese, not much can be read out from the leaked information. Only 3 more features details of Vivo iQOO 3 5G are available but being a 5G model, certainly it shall poses features in high end spectrum. China is one of the toughest market when it comes to high end models as its home turf to many players like Xiomi, Huawei and Oppo etc.
Vivo iQOO 3 5G features 6.89 inch screen which indicates its going to have much better display platform and hence all other supporting attributes like RAM and processor. Most of the models in such league comes with water drop notch, lets see if that being the case here also. Vivo iQOO 3 5G is a slim model with 167.44×76.14×9.4 mm.
The Vivo iQOO 3 5G smartphone was first got listed on January 7, 2020 on 3C. The model comes with 4,250 mAh battery which is expected to come out with powerful fast recharging. If some one can read out Chinese, we are attaching the image of Vivo iQOO 3 5G 3C certificate.
Lets wait for final information on Vivo iQOO 3 5G price in India 2020.