Vivo Y50 Price in India
There has been quite aggressive announcement of new smartphone from top players but one brand which has not been in so lime light is Vivo.
This may be due to multiple reasons but the brand has couple of models in the pipeline and soon we may witness their announcement and one such model is Vivo Y50. The smartphone has got certification from Indonesian telecom company as model Vivo 1935 on March 20th, 2020. The Y series is value for money series and hence Vivo Y50 price in India can be expected in less than Rs. 8,999 level.

There is no information available as yet on features quality of Vivo Y50 thogh some people have posted them with their own estimates. The only confirmed new so far on Vivo Y50 is model only which got revealed few days earlier also on IMEI site. Since its a low price smartphone, there is not going to be high intensity buzz also.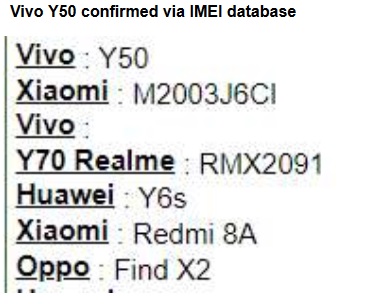 So far we have seen Y series model from Vivo in 4G network category only and most likely Vivo smartphone Y50 would be no different. In the OS side, there has been only Android 9 at best but in the current model if there is Android 10, it shall not be a surprise.
Few improvements which have been there in similar price models is notch in design, triple camera on back side, larger RAM and processor. Its to be seen now how much of that will come on Vivo Y50 also. Also now there is great deal of focus on fast charging, lets see if Vivo model Y50 carries similar feature.
Soon we will update on Vivo Y50 price in India along with detailed information on key features and specification.