One thing certain people miss on smartphone especially those who watch games and play long videos is storage capacity. The latest HD files are so large they capture good portion of the space leaving very less for next file.
We find solution to this in newly launched model Vivo Y79 in India hopefully it clicks well on other features also. Vivo Y79 price in India is Rs. 24,999 but we need to confirm more on this if there is any better deal available.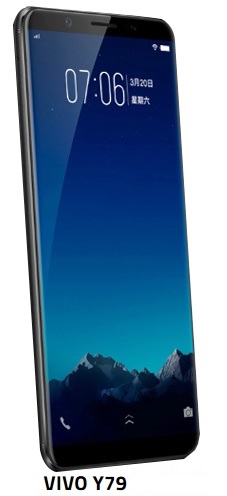 There will not be any complain on the display front as Vivo Y79 packs 5.99 inch screen with full HD display. Certainly had there been split technology, even watching videos and reading messages also would have been at par with many other models. The 64GB ROM will give you almost 54GB space after apps installation. In our knowledge Vivo Y79 offers the largest memory for any smartphone model in Indian market (read Vivo Y65).
Vivo Y79 has been extra powerful when it comes to processing as it poses 4GB RAM and 2.0GHz Snapdragon 625 processor. On the top of this there is Android 7.1 Nougat OS to further enhance power and also user friendlyness. There is no let down on the camera front also in Vivo smartphone Y79 which has 24MP rear and 16MP front shooter. It will even try to match even the dual camera sets which have become trends in recent times.
On a single recharge, Vivo smartphone Y79 battery of 3,325 mAh will ensure you never go out of action even in 3G/4G usage conditions. Its very slim and stylish with light weight making it very comfortable to carry. Certainly the model will give competition to not only Indian players but also to Chinese players.
With these quality in the kitty, hope people will find Vivo Y79 price in India also quite justified.
Vivo Y79 Features list
5.99 inch full HD display
4GB RAM
2.0 GHz Snapdragon processor
64GB ROM
Bluetooth, Wi-Fi, hotspot
Dual SIM: Nano
2G/3G/4G network
Stylish and slim design
Powerful 3,325 mAh battery