Vivo iQOO Neo 3 Price in India
With lock down in many countries, people are confined to their home and the devices which will be getting used most are coming to the market at very good rate.
Gaming on smartphone, laptop etc. is one such activity and hence we saw launch of gaming headset few days back and now its the turn of gaming smartphone i.e. Vivo iQOO Neo 3 5G. There are not many models in the gaming category but still its not an low standard competition. The price of Vivo iQOO Neo 3 in India is expected to be around Rs. 35,999 only.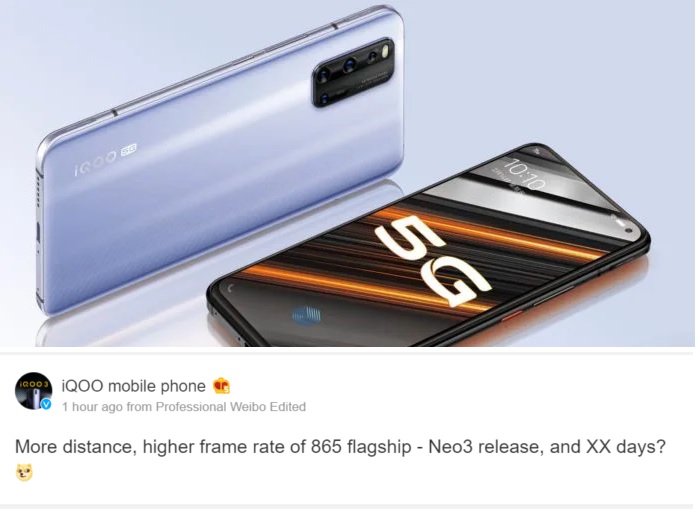 The 5G enabled Vivo smartphone iQOO Neo 3 probably has improved from Vivo iQOO Neo 2 when it comes to experience in gaming. It shall carry a refresh rate of 144Hz to be at par with the best phone in the market and its model with 60Hz should become history. The internet speed is curtailed in many countries to meet the suddenly grown demand and hence Vivo iQOO smartphone Neo 3 should be well placed to work in that environment.
Vivo iQOO Neo 3 has better input performance to ensure there is minimal time lag with 180Hz panel. With 6.44 inch screen of Super AMOLED quality and FHD+ resolution, there shall be quite easy way out for faster navigation during gaming. The Neo series has been with 5G models but Vivo model iQOO Neo 3 carries Snapdragon 865 SoC and hence this will also bring additional boost to performance.
The other features of Vivo iQOO Neo 3 are quite remarkable with 4,400 mAh battery and hopefully super fast charging is also there. The 12GB RAM and 256GB storage are in line with what a gaming smartphone of high end shall carry.
Soon we will provide latest information on Vivo iQOO Neo 3 price in India 2020. Its arrival is expected in the month of April 2020.
Vivo iQOO Neo 3 Features list
6.44 inch Super AMOLED screen
FHD+ display
12GB RAM
256GB ROM
865 SoC processor
4,400 mAh battery
iQOO 1.0 UI
Android 10 OS
16MP selfie camera
48MP + 13MP + 13MP + 2MP back end camera set up