iTel A48 Price in India
Usually we have seen finger print scanner as a security tool for unlocking phone but iTel A48 has taken this feature to multiple activities. Available at price of iTel A48, the smartphone allows stop alarm, answer calls, record calls and click photos with scanner directly. Also iTel A48 is make in India product and hence shall appeal to users who are more interested in buying Indian make products.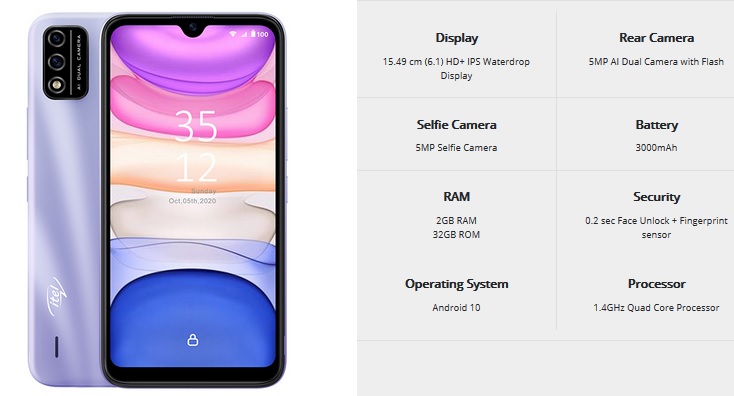 Though the new smartphone iTel A48 is for 4G users, it has fascinating features and specifications in the list. To make the model stylish all the color models i.e. purple, green and black are in gradation format. Also to give enhanced interface, iTel A48 has very thin bezel on the sides.
For video calling also iTel A48 is going to be quite appealing as it poses dual 5MP camera with AI support on back side. On the front end it has 5MP shooter and not the best model when quality of selfies is important for you.
The presence of Android 10 OS will ensure you can enjoy latest application with good performance which is also supported by 2GB RAM and 1.4GHz Quad core processor. Another key feature of this model is 32GB ROM which one can expand up to 128GB also. The official iTel A48 price in India is Rs. 5,999 though at some stores the same level is shown as discounted one.
iTel A48 Features list
6.1 inch screen
HD+ disaplay with IPS drop water notch
3000 mAh battery
Purple, green, black color models with gradation
Dual 5MP camera with AI and flash
5MP front camera
32GB ROM
Android 10 OS
Face unlock, Finger scanner