Itel it5027 Price in India
It is quite interesting that there are still people who are not ready to move on from 2G network and they have some valid reasons for that too. For these 2G network users we have seen some interesting models and now the upcoming smart feature phone in that is Itel it5027 at price of Rs.1,169 in India (compare with price of Itel it5260). Quite like smartphone, the feature phone like Itel it5027 meant for 2G users have improved considerably in their quality from what we had seen in the past. Itel it5027 commands features like 4MB RAM and 1200 mAh battery which offers back up time for 10 days.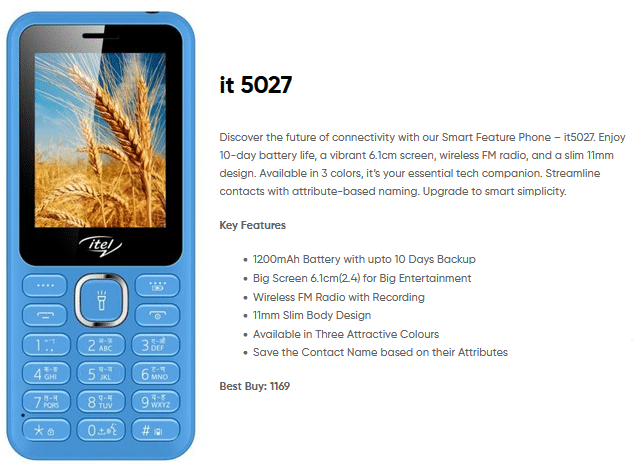 Itel it5027 Features
When we analyze features of models like Itel it5027 we have to keep them in right perspective. Though they may not stand any where when compared against 4G models still they are quite good in the 2G space especially in the smart feature phone category. Itel it5027 has 2.4 inch screen which makes it easy to use for messaging and calling. With 1000 contact and 200 messages storage capacity this model is quite good in terms of usability also.
Itel it5027 Features list
2.4 inch screen
4MB RAM
1000 contacts
200 SMSs
1,200 mAh battery
King Voice for high quality entertainment
Itel it5027 Specifications
To give an pan India usage, Itel it5027 comes with multiple local Indian languages support apart from Hindi and English. Another main specification of Itel it5027 is processor with SC6531E chipset offering 208 MHz frequency which on 4MB RAM and 4MB ROM will ensure much better performance than what one may have seen in a normal feature phone in the price range of Rs. 1,000-Rs.1,200 (also check low price model Itel it2172 in India).
Itel it5027 Specifications list
4MB ROM
32GB expandable memory
Languages supported: English, Hindi, Gujarati, Tamil, Telugu, Bengali, Kannada & Malayalam & Punjabi
Colors: Black, Blue, Light Green
Rear end camera: 0.3MP
Screen resolution: 240×320 pixel
Resolution type: QVGA
Pixel density: 167ppi
Technology: TN
Battery talk time: 14 hours
Wireless FM radio with recording
Dual SIM with dual stand by
Itel it5027 Review and Price
For a 2G network users, Itel it5027 offers very good quality experience especially in the entertainment and basic usage category. Already available at good discount at official site Itel it5027 at price of Rs. 1,169, the mobile is certainly a good value for money proposition.